The right to education, care and protection - for children growing up in war zones these are little more than empty promises. Currently, in the world's five most conflicted countries - Syria, Iraq, South Sudan, the Central African Republic and Yemen - some 21 million children are directly affected by violence. Terror groups such as "Islamic State" (IS) and Boko Haram intentionally disregard the principles of international humanitarian law in order to generate a maximum of attention.
"Children are subjected to bomb attacks in their homes and in their schools; they are kidnapped, killed, sexually abused and recruited as child soldiers," says Ted Chaiban of UNICEF International. One in ten children worldwide lives in a country or region that is defined by armed conflict. That means that an unfathomable 230 million children grow up caught in the middle of conflicts.
"Children caught in the middle" is also the title of the 2015 UNICEF report, which was just presented in Berlin. With its 270 page report, the children's aid organization seeks to draw attention to the ways that uncertainty, hate and violence destroy the lives of millions of children.
Fewer contributions
It is said that there have not been this many child refugees since the end of the Second World War. And UNICEF has never had to ask for so much money for emergency aid in conflict regions.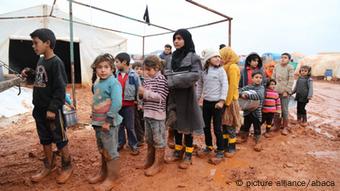 Millions of children suffer the consequences of armed conflict
This year that sum will be about $3 billion (2.7 billion euros). Two-thirds of that money comes from state funding, one-third from private donations - and it gets harder to raise every year.
"It is far easier to gather donations for victims of natural disasters than for Syrian war refugees," says Jürgen Heraeus, chairman of UNICEF Germany.
"People say, 'natural disasters could affect any of us,' so they have a certain empathy, whereas the other case is an armed conflict and they feel that it has nothing to do with them," he said.
"The UN's world food program and UNICEF have both had to cut back on food rations due to lack of funding. Therefore they cannot help all of the children, youths and other needy persons that are so dependent upon such aid," laments Germany's Development Minister Gerd Müller. In the past two years, says Müller, some 70,000 children have been born on the floors of tents in refugee camps. He has witnessed the suffering in such refugee camps firsthand and tells of recently meeting a mother holding her seventh child in her arms, as she sat next to her 16-year-old son who had lost both of his legs in a conflict.
Müller goes on to criticize the fact that in Germany the willingness to donate money to help refugees and displaced persons is waning. "The images keep washing over us, and unfortunately we are becoming increasingly numb to them." But the global community must live up to its promises and do something.
School and psychotherapy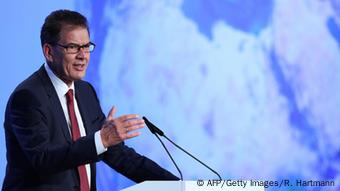 German Development Minister Gerd Müller is concerned that people are tiring of all the bad news
Last year, the development ministry gave UNICEF about 150 million euros ($167 million) to support projects in war and conflict zones. A large part of that money was used to aid refugees from Syria and Iraq.
"Because of such support 100,000 children can attend school in Lebanon alone," reports Müller. Financial aid is scheduled to be increased this year, although Müller declined to say exactly how much when asked. Germany is among the most important donors for school projects for Syrian refugees.
Ted Chaiban emphasizes that it is importent for children and youths to go to school and to get a glimpse of a world that is formed by hope, not hate. That is why the children's aid organization is active in making sure that children get psychological and social support as well. Simple children's centers are enough to start with and therapy can take place in tents. "Germany wants to focus on the program this year," says Gerd Müller, who also announced further financial aid for this kind of support.
Jürgen Heraeus stresses that the opportunity for a return to stability and peaceful development is dependent upon giving youths orientation and jobs. "If we are unable to catch this generation, to give them an education and hope for a better future, then they will simply drift away."