Syrian government forces backed by Russian warplanes continued their attacks on the rebel-held eastern Ghouta region near Damascus for a fifth straight day on Thursday, with the United Nations and other international voices calling for an urgent halt to what is one of the fiercest air assaults in Syria's seven-year civil war.
In apparent reaction, Russian Foreign Minister Sergey Lavrov was quoted by Russian news agencies as saying that Moscow would consider supporting a potential UN Security Council ceasefire resolution.
Its wording, however, would have to exclude the Islamic State (IS) militia, the al-Qaida-linked Levant Liberation Committee and "groups that cooperate with them," the Russian agencies said.
Russian, Syrian aircraft overhead
Some 200 shells rained down on the eastern Ghouta area of Douma on Thursday morning, killing 13 people, according to the Britain-based Syrian Observatory for Human Rights.
Residents and rebels say both Syrian and Russian aircraft have been taking part in airstrikes, with altogether more than 300 people killed in the area since Sunday night.
Read more: Which rebel groups are fighting in Syria's eastern Ghouta?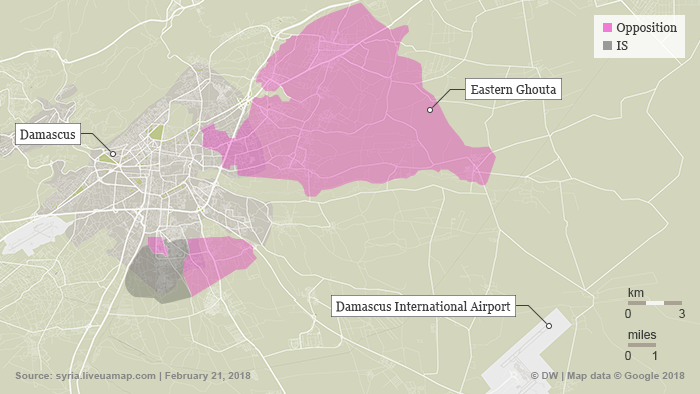 'A massacre'
In a speech to Germany's parliament, Chancellor Angela Merkel on Thursday called for an end to the "massacre" in the area and condemned the Syrian regime for targeting "its own people."
"The killing of children, the destruction of hospitals — all that amounts to a massacre that must be condemned and that must be countered with a clear no," she said.
United Nations chief Antonio Guterres has joined France in calling for an immediate humanitarian ceasefire, while the world body's Syria envoy Staffan de Mistura said he hoped that the Security Council would agree at its special meeting on Thursday to issue a resolution calling for that ceasefire.
However, de Mistura warned that it would not be easy.
Among other things, Russia, which has been giving military backing to its longtime ally Syrian President Bashar al-Assad, holds veto rights in the Council.
Russian news agencies ran pictures of extra Russian warplanes, including Su-57 fighters, arriving at Heimemeem, the airbase used by Russia in Syria's coastal province of Latakia.
Kremlin spokesman Dmitry Peskov said on Thursday that responsibility for the situation in eastern Ghouta lay with the countries "that are supporting terrorists there," adding that Russia, Syria and Iran were not among those countries.
Read more: What foreign powers want from the Syrian war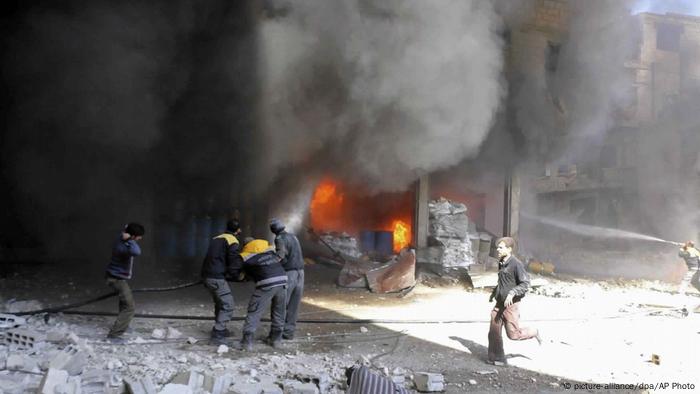 Eastern Ghouta has been under siege since 2013
Long-running conflict
Syria's multi-sided and tangled war has claimed more than 340,000 lives and forced millions to flee their homes in the seven years it has run.
Eastern Ghouta is the last rebel bastion left near the capital, and one of just a handful of areas still held by fighters seeking to overthrow Assad. Some 400,000 people are estimated to live there, according to UN figures.
The Syrian army accuses the rebels in eastern Ghouta of firing mortars at Damascus and causing deaths in the capital.
Read more: Opinion: The twisted logic of the war in Syria
tj/ng (Reuters, AFP, dpa, AP)
DW's editors send out a selection of the day's hard news and quality feature journalism. You can sign up to receive it directly here