The unity government was formed under a UN-mediated peace deal. Headed by a
little-known Libyan technocrat, Fayez Serraj, the government was supposed to replace the two rival administrations - one based in the capital Tripoli, the other based in the eastern city of Tobruk.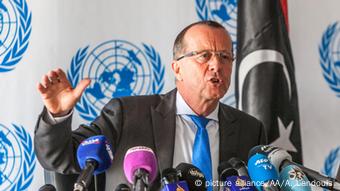 Veteran German diplomat Martin Kobler became UN special envoy for Libya last year.
"There has to be a transfer of power from the old to the new government, and it must happen quickly - within days," Kobler said late Thursday in Cairo.
But the Islamist-dominated Tripoli-based government is continuing to resist the UN initiative to install a "unity government" in Libya's traditional power center.
"We say it has no place among us," Khalifa Ghweil, the Tripoli-based prime minister, said in a statement late Thursday. He said the unity government was "imposed from the outside" and his administration would never let in a leadership "installed" by the UN.
UN envoy struggles
The Tobruk-based parliament, which is the one recognized by many in the international community, still has not formally approved the UN deal. While some members support Serraj's government, others reject it, viewing it as a compromise to their Tripoli rivals.
Most significantly, eastern-based strongman Khalifa Haftar, a general who commands a force of army units and militias that has been battling Islamic militants allied to Tripoli, has remained silent on the deal. Many of his loyalists oppose it.
France warns of sanctions
In a related development, French Foreign Minister Jean-Marc Ayrault said Friday that Libyan officials who blocked the country's unity government would face sanctions.
His remarks came ahead of meetings with Serraj during a two-day visit to Tunisia.
Ayrault said there was a "shared view" in Europe that sanctions should be imposed on "a few people who are blocking the way for reasons of self-interest and financial interest."
The oil-rich North African country has been in turmoil since 2011 when a NATO-backed uprising toppled longtime dictator Moammar Gadhafi.
European nations and the United States are alarmed by the growing foothold of the self-styled "Islamic State" group, which has taken advantage of the chaos to set up a powerful and expanding branch in Libya.
There has already been some low-level, behind the scenes military intervention reported with US special forces on the ground working with Libyan officials. US warplanes have also reportedly carried out airstrikes.
jar/jm (AP, dpa)