The United Nations General Assembly overwhelmingly approved a resolution Thursday condemning the US economic embargo of Cuba.
Germany was among the 189 countries that voted for a document submitted by Havana calling for an end to the blockade. Only the US and Israel voted "no." Ukraine and Moldova did not vote.
Debate on US amendments
Before the vote, there was debate on eight amendments proposed by the United States. They criticized Cuba's human rights record, called on Cuba to fully grant its citizens "internationally recognized civil, political and economic rights and freedoms."
In separate votes on the proposed amendments, the United States, Ukraine and Israel were the only countries to back the changes.
US Ambassador to the UN Nikki Haley stressed that "our reason for the embargo is and has always been Cuba's denial of freedom and the denial of the most basic human rights for the Cuban people."
She urged the General Assembly to "send a moral message to the Cuban dictatorship" to improve the lives of the Cuban people.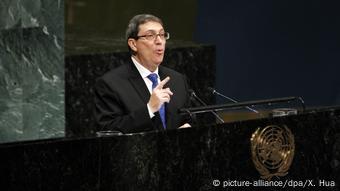 Rodriguez said the United States lacked the moral authority to criticize other nations
Citing what he called a "cruel policy" of detaining migrants at the US-Mexican border, Cuban Foreign Minister Bruno Rodriguez said President Donald Trump's administration had the "lowest moral authority" to criticize human rights.
Rodriguez also called the embargo "a flagrant, massive and systematic violation of the human rights of Cuban men and women" and denounced what he called the politicized US amendments.
Haley called the vote on the US blockade, which has taken place annually since 1992, a "waste of time for all."
It was the 27th condemnation of the 1962 embargo against Cuba by the Assembly.
Resolutions adopted by the 193-member world body are unenforceable but reflect the opinion of the international community.
The US economic embargo of Cuba was imposed in 1960 following the revolution led by Fidel Castro — Cuba's prime minister at the time — and the nationalization of properties belonging to US citizens and corporations.
Read more: New leader in Cuba: What's in store after the Castros?
ev/sms (AP, Reuters, AFP, dpa, epd)

Each evening at 1830 UTC, DW's editors send out a selection of the day's hard news and quality feature journalism. You can sign up to receive it directly here.