Germany and France cast doubt on next week's planned peace talks in Astana, Kazakhstan on Monday. At a four-way meeting attended by top diplomats from the two EU nations as well as Russia and Ukraine, officials said a new summit only makes sense if "real progress" is made in implementing the Minsk peace accord.
Despite these talks, Ukraine has beefed up its heavy weaponry, German news agency DPA reported. Ukrainian President Petro Poroshenko himself was on hand to deliver fighter jets, howitzers, and armored cars to the military in Zhytomyr in the north of the country.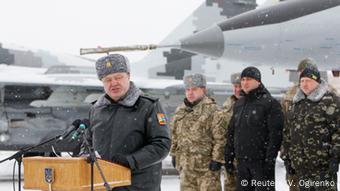 Poroshenko speaks at a ceremony in Zhytomyr to hand over weapons of war
"I am convinced that 2015 will be the year of our victory," Poroshenko said. "In order to achieve that, we need a strong, patriotic, and well-equipped army."
The delivery of heavy weapons is in direct violation of the Minsk agreement, which both sides accuse the other of violating on multiple occasions.
Merkel hestitant
Poroshenko expressed his intention to attend the talks in Astana alongside Russian President Vladimir Putin. German Chancellor Angela Merkel and French President Francois Hollande are also set to attend, though both governments have said they will only go on the condition that the Minsk accord is taken seriously.
"I can't say yet if and when such a meeting will take place. Such a meeting only makes sense if we can make real progress, " said Merkel spokesman Steffen Seibert, three days ahead of a planned visit from Ukrainian Prime Minister Arseniy Yatsenyuk to Berlin.
"We have a very clear idea of what constitutes real progress. This would be first and foremost achieving the full implementation of the Minsk peace accord and a genuine and lasting ceasefire, a contact line between areas controlled by Ukraine and rebels, and a withdrawal of heavy weaponry. Such things must be prepared in advance," Seibert added.
President Poroshenko also struck a cautious note on Monday, saying talks would only happen if "we manage to produce a draft" of an agreement before January 15.
France opens up to Russia amid economic woes
Hollande also spoke about the Ukraine crisis and the Kazakhstan summit during a two-hour interview with France's Inter radio station. Like Merkel, Hollande is only going to Astana if there is "fresh progress", otherwise "it is not worth it."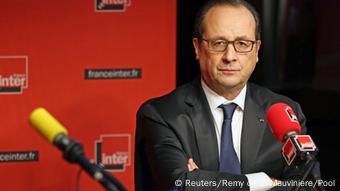 Hollande gave a two-hour long interview which covered a range of topics, including Ukraine and the possibility of a Greek exit from the eurozone
The French leader took a less hard line on Russia and its president than other Western leaders have of late, saying that sanctions should be lifted if forward strides are made in resolving the conflict.
Hollande answered questions about his one-on-one conversations with the Russian leader, saying "Mr. Putin does not want to annex eastern Ukraine…what he wants is to remain influential. What we want is that he respects the territorial integrity of Ukraine."
Moscow has continuously denied that it backed the conflict in the eastern part of the former Soviet republic that has left 4,700 dead. The crisis has also proven disastrous to cash-strapped France, as it is prevented from completing the delivery of two high-tech Mistral class warships to Russia. Breach of the 1.2-billion euro ($1.5-billion) contract could make France liable to hefty fines.
es/bk (AFP, dpa, Reuters)