Yulia Samoilova is to represent Russia at the Eurovision Song Contest in the Ukranian capital Kyiv with her song "Flame is Burning," announced Russian TV channel "Pervy Kanal" on Sunday evening, saying that the 27-year-old had won an internal selection process.
"Yulia is an independent singer, an enchanting girl and a successful competition participant," noted the broadcaster. Confined to a wheelchair, Samoilova sang at the opening of the Winter Paralympic Games in Sochi in 2014.
On Monday, however, Ukraine's intelligence agency announced that the candidate was under examination after news emerged that Samoilova had performed in the Crimean city of Kerch in 2015, a year after the peninsula had been annexed by Russia. Should she have not have entered the country by land from Ukraine, she could be barred from participating in this year's ESC. Direct travel to Ukraine via Russia has been prohibited since the annexation - and violators are not allowed to enter Ukraine for a period of several years. Ukraine has announced that no exceptions would be made for the competition.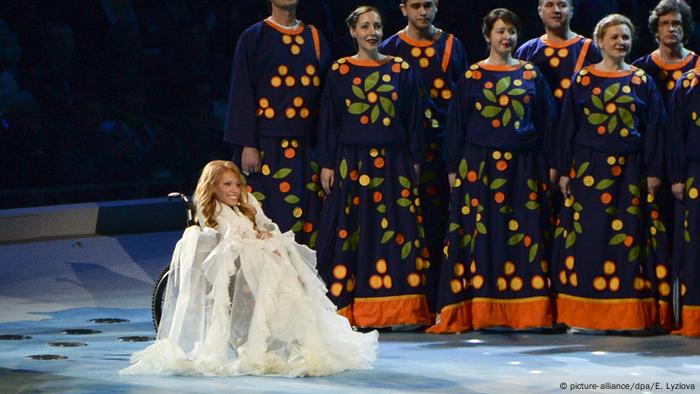 Julia Samoilova at the Paralympics in Sochi, 2014
That announcement now refuels speculation about a possible Russian boycott of the song contest in Kyiv. Ukraine and Russia have been at odds since the annexation of Crimea and the armed conflict that arose between pro-Russian separatists and Ukraine in the eastern part of the country. A number of Russian artists have been prohibited from performing in Ukraine.
In 2016, Ukraine's ESC candidate Jamala, an ethnic Tartar, won the contest with "1944," a song about her great-grandparents, who in the era of Soviet dictator Joseph Stalin were deported from Crimea to Central Asia. The song was considered by many in Russia a violation of Eurovision statutes prohibiting political messages in ESC songs. However, the contest's organizer, the European Broadcasting Union (EBU), ruled that the song was apolitical. Russia's candidate, Sergei Lasarev, placed third in last year's competition.
The semifinals of the Eurovision Song Contest 2017 are scheduled for May 9 and 11 in Kyiv. The finals will take place on May 13.
mr/rf/kbm (dpa)