Ukrainian General Prosecutor Yuriy Lutsenko on Thursday accused a lawmaker who became a national hero after being released from Russian jail of planning a terrorist attack targeting parliament.
"The investigation has irrefutable proof that Nadiya Savchenko … personally planned, personally recruited, personally gave instructions about how to commit a terrorist act here, in this chamber," Lutsenko told parliamentarians.
He claimed that Savchenko planned to use grenades and mortar launchers to destroy parliament and "finish off the survivors with automatic rifles."
Coup 'is rather expected'
Savchenko welcomed the allegations, saying she supports a military coup against President Petro Poroshenko and his government.
"They're good since I am an officer of the Ukrainian armed forces and … I swore an oath to the Ukrainian people to protect the Ukrainian land and certainly not the Ukrainian authorities," she said, according to Kiev-based Interfax Ukraine news agency.
Read more: Nadiya Savchenko: The thorn in Poroshenko's side?
"I know that there are a lot of servicemen who are listening to me, who absolutely agree with the view that a military coup in Ukraine is rather expected and probably a fairly correct development."
Porosheko's government has been accused of involvement in widespread corruption and attempting to amend anti-graft measures instituted under EU reforms.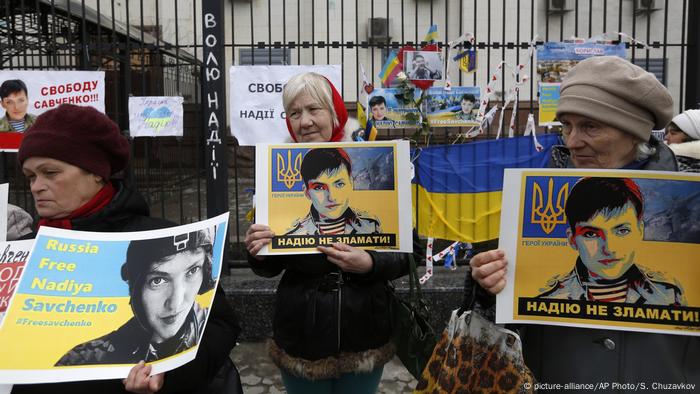 Savchenko became a war hero while incarcerated in Russia for her confrontational behavior in the court room
Controversial figure
Savchenko, a former combat pilot in the Ukrainian military, rose to notoriety after she was captured on the frontline in eastern Ukraine, where pro-Russia rebels have been waging an insurgency since 2014.
She was tried in Russia, where a court found her guilty of murdering two Russian journalists in war-torn eastern Ukraine. However, she was later released in May 2016 under a prisoner swap with Moscow.
Read more: 'Ukraine is paying for Europe's freedom,' says Savchenko
Upon her return to Ukraine, Savchenko was given a hero's welcome for her defiance in the face of Russian authorities. Afterward, she became a Ukrainian lawmaker who tended to contradict Poroshenko's policies.
Savchenko has continued to court controversy. Last year, Ukrainian lawmakers threatened an investigation into Savchenko for her involvement in anti-Ukrainian actions after she suggested Kyiv rein in its demands for Russia to handover Crimea, which it illegally annexed in 2014.
ls/kms (AFP, Reuters)