UPDATE: UK truck victims were Chinese
UK police on Wednesday announced the discovery of 39 dead bodies in a truck container in Essex, a county in southeast England.
The truck was found at an industrial park in Grays, east of London, by ambulance workers.
"This is a tragic incident where a large number of people have lost their lives," Chief Superintendent Andrew Mariner from Essex police said in a statement. "Emergency services arrived but sadly, 39 people were pronounced dead at the scene."
Identifying victims a 'lengthy process'
Authorities are now working to identify the 38 adults and one teenager.
Police have arrested the 25-year-old driver of the truck on suspicion of murder and he remains in police custody. He has not been charged or identified, but is reportedly from Northern Ireland.
Read more: Extent of abused Vietnamese children trafficked to Europe 'shocking'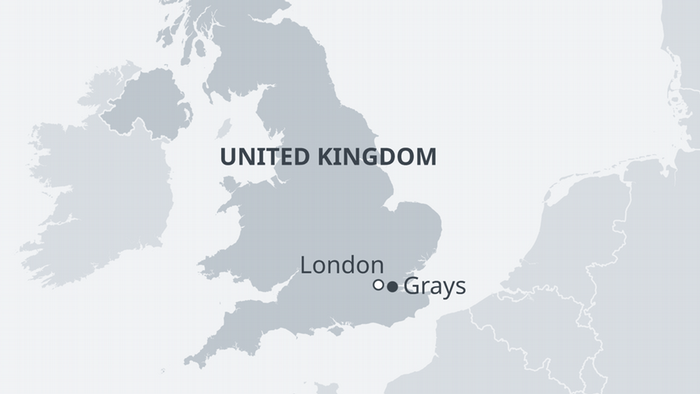 A cordon has been put in place at Waterglade Industrial Park and access to and from the Park remains closed. Nearby businesses said they had been unable to enter their units due to the closure.
"We are in the process of identifying the victims, however I anticipate that this could be a lengthy process," Mariner said.
Essex police are working with Thurrock Council to "mitigate against any impact" the investigation scene may have locally.
All those who were in the truck were pronounced dead.
Truck traveled from Belgium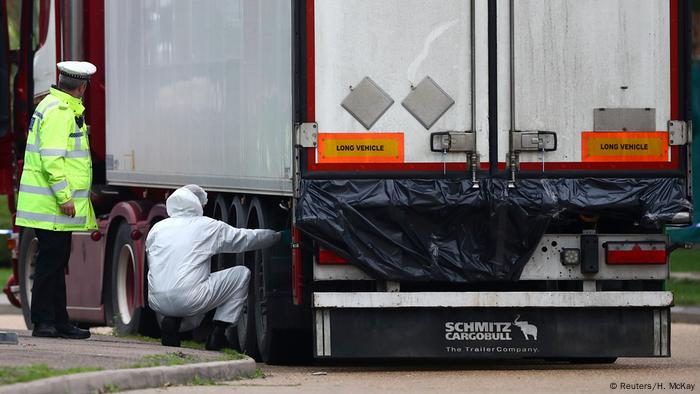 Investigators are unsure how long the truck was in Belgium for
UK police believe the trailer of the truck traveled from Zeebrugge, Belgium, into the port of Purfleet in the east of England.
The trailer landed in the Thurrock area shortly after 12.30 a.m on Wednesday (2330 UTC). It left the port on the truck at about 1.05 a.m and police were notified by ambulance services about the discovery at around 1.40 a.m.
It was unclear who had called the ambulance services.
Originally police reported the truck had reached its destination via Holyhead in Wales.
"We have no idea at the moment how long the truck spent in Belgium" said Eric Van Duyse, spokesperson for the Belgium federal prosecutors office.
"It could be hours or days. We just don't know" he added.
Truck registered in Bulgaria
The tractor unit of the truck is believed to have originated in Northern Ireland, police said, amending a previous statement which claimed the trailer had originated in Ireland.
It had "Ireland" emblazoned on the windscreen along with the message "The Ultimate Dream."
Prime Minister Leo Varadkar said Irish authorities would carry out any investigations necessary if it was established that the truck had passed through Ireland.
Bulgaria's foreign minister said the truck, a Swedish-made Scania, is registered in Bulgaria's Black Sea port city of Varna to a company owned by an Irish woman.
Despite the truck's Bulgarian registration, Bulgaria has no connection to the deaths of the 39 people in the truck, the country's Prime Minister Boyko Borissov said on Wednesday.
The truck had not entered the country since 2017.
Read more: Berlin's Asian food hub implicated in human trafficking network
Politicians 'appalled' and 'shaken'
British Prime Minister Boris Johnson tweeted that he was "appalled by this tragic incident in Essex," adding that he will "work closely with Essex Police."
German Chancellor Angela Merkel was "deeply shaken by the news from Britain of the fate of 39 people who were crammed together inside a truck and died an agonizing death," her spokesperson Steffen Seibert told reporters in Berlin.
As the circumstances surrounding the deaths are investigated, "our resolve must be directed against those who organize and carry out such transports," he continued.
An Interior Ministry spokesperson made clear that Germany would offer all the support it can to the UK investigation team. Germany lies on the transit route between Bulgaria, where the truck is registered, and the UK.
British Home Secretary Priti Patel tweeted she felt "shocked and saddened" by the event.
Jackie Doyle-Price, the Conservative Member of Parliament for Thurrock, tweeted "people trafficking is a vile and dangerous business."
Leader of the opposition Labour party, Jeremy Corbyn called the deaths an unbelievable human tragedy that needed answers.
"Can we just think for a moment of what it must have been like for those 39 people, obviously in a desperate and dangerous
situation, for their lives to end, suffocated to death in a container," he said.
kmm, mvb, mmc/rt,stb (AFP, AP, dpa)
Every evening at 1830 UTC, DW's editors send out a selection of the day's hard news and quality feature journalism. You can sign up to receive it directly here.