If there is one definitive thing that can be said about Donald Trump's controversial US presidential bid it is that the billionaire has got people talking. The prospective Republican nominee's comments, including a call for "a total and complete shutdown of Muslims entering the United States," have sparked comment - and often outrage - at home and abroad.
Debate about Trump's views will even be heard in the British House of Commons. On Monday, MPs will discuss calls for Trump to be banned from entering the UK after a petition received more than 560,000 signatures, far outstripping the 100,000 names needed to trigger a debate.
"Some of the things (Trump) said about women, about Muslims, about others have just been beyond the pale. I do not want this man being in any position of power," says Suzanne Kelly, who started the petition on November 28, just days before Trump's calls for a ban on Muslims entering the US.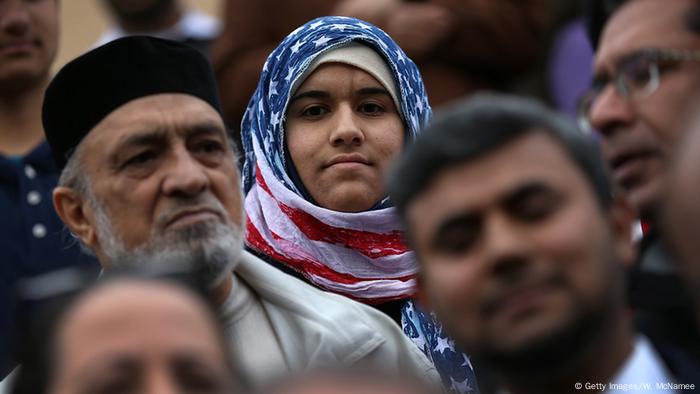 Trump has sparked outrage both at home and abroad about his comments on Muslims
"I put the petition up and next thing I knew I had the world's media calling me up. I haven't gone out of my way to push this, it's pushed itself. I think (Trump) was the big advertisement for this issue, when he made his Muslim remarks. Aside from taking out billboards I don't think he could have done anymore to help my cause," Kelly, who is originally from New York but has lived in Aberdeenshire, in northern Scotland, for over a decade, told DW.
Launching the petition
Kelly says she started the petition after Trump appeared to publicly mock Serge F Kovaleski, a New York Times reporter with a physical disability who has previously written articles critical of The Apprentice star.
"I started this petition for my neighbors who were targets because of their religion and national origins, for my friends who were insulted because of their race, and my sisters, denigrated for being women. The huge number of signatures signals to me that people are weary of speech designed to drive wedges through communities," she said.
Kelly, who runs an online news source called Aberdeen Voice, says that the success of her petition has come as a surprise.
"I feel very, very happy that I have got this far. I didn't think it would get this far. They are now going to have a debate. I'm awed by the kind things people have said. This has been an outpouring of people from all walks of life saying we have had enough of hate speech, the world has got other issues and we are not going to tolerate this."
She will not be present at the parliamentary debate but says that "the fact that it is going to be debated in the parliament is to me absolutely wonderful. I think that is a major step in addressing some of the world's problems when it comes to Islamaphobia and hatred of all kinds."
Kelly says that "in an ideal world" the House of Commons would ban Trump from the UK, but that outcome seems unlikely. Prime Minister David Cameron called Trump's remarks about Muslims "divisive, stupid and wrong" but has stopped short of calling for the presidential candidate to be barred from entering the UK.
Politicians will also discuss a separate petition opposing such a ban, even though it only gained about 40,000 signatures - well below the 100,000 threshold for initiating a debate.
Headline news in Scotland
Trump's intemperate remarks have been headline news in Scotland, where Trump's mother hails from and he has significant business interests. In the wake of his comments about Muslims in the US, Scottish first minister and Scottish National Party leader Nicola Sturgeon withdrew the entrepreneurs' membership of the Global Scot business network. Robert Gordon University in Aberdeen stripped Trump of an honorary awarded in 2010.
This week former Scottish first minster Alex Salmond called Trump a "stupid man" and "an embarrassment to Scotland."
The Scottish government, and the Scottish National Party, have not always held Trump in such low esteem, however. Back in 2008, the Edinburgh administration stepped in when Aberdeenshire Council rejected Trump's bid for planning permission for a £1billion (1.3 billion euros, $1.4 billion) luxury golfing complex.
Trump's business investments such as his golf courses have caused great controversy
The sprawling development on the scenic Aberdeenshire coast went ahead in the face of vocal local opposition. In 2012, Michael Forbes, a farmer who refused to sell his land to Trump, won the 'Top Scot' award at the Glenfiddich Spirit of Scotland Awards. Trump responded by calling the awards a "terrible embarrassment to Scotland."
Trashing Trump
Trump's relationship with Alex Salmond, then Scottish First Minister, turned sour after a decision was made to build 11 wind turbines near the Aberdeenshire golf course. Trump accused Salmond of being "hell-bent on destroying Scotland's coastline and therefore Scotland itself." Trump went on to take out adverts comparing the development of wind farms to the Lockerbie bombing, which killed 259 passengers on board Pan Am Flight 103 and 11 residents of the Scottish town in 1989.
In June, an Edinburgh court dismissed Trump's request for a public inquiry into what he says was the Scottish government's unfair approval for the wave power project. Scottish judges concluded Trump's lawyers had not come "anywhere near" substantiating his suspicions.
Trump has threatened to pull out of his business interests in Scotland - which include a famous golf course at Turnberry - if he is banned from the UK.
As an American citizen, Suzanne Kelly can cast a postal vote in November's US presidential election. Regardless of who is on the ballot, she has already made up her mind who she will not be voting for.
"I don't think that Mr Trump can be expecting my vote."