British lawmakers have overwhelmingly voted in favor of setting up a referendum on the country's continuing membership in the European Union, with legislators backing the EU Referendum Bill 544 to 53 on Tuesday.
The bill will still face more scrutiny and further votes before it becomes law mandating the plebiscite, but is in line with Prime Minister David Cameron's vision for a referendum on EU membership to take place by the end of 2017. The bill serves to lay out the rules for a public referendum vote on the question, "Should the United Kingdom remain a member of the European Union?"
Foreign Secretary Philip Hammond welcomed the move, explaining the need to revisit the UK's position within Europe by highlighting the distinction between the small European Economic Community initiative, which the UK joined in 1975, and the current 28-member bloc of the EU.
"We need a fundamental change in the way the European Union operates," he said, calling for more protections for Britain and other countries outside the euro single currency union.
Conservative Party undecided
Cameron managed to gain support from the Labour opposition while having to deal with some considerable disagreement from within the ranks of his Conservative Party, where he faces pressure from some 50 lawmakers advocating Britain's departure from the EU. These "Conservatives for Britain" MPs say that they want to be able to campaign for a "No" vote - even if the prime minister disagrees with that message.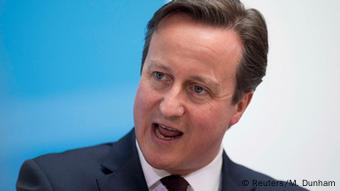 Cameron enjoys widespread support for the referendum, but some Conservative MPs disagree with his plans
Cameron had said he would argue in favor of remaining in the EU if he succeeded in renegotiating the terms of membership, adding that he wanted to cut back on the political powers which the EU had over its member states. To this end, Cameron has been holding regular meetings with EU leaders since his re-election as prime minister last month.
The referendum bill was backed by the Labour and Liberal Democrat opposition as well as by most Conservatives. Both Labour and the Liberal Democrats stated that they wanted to remain in the EU. However, the bill was opposed by the Scottish National Party, the third-largest faction in the House of Commons.
Key issue for Scottish nationalists
The Scottish National Party wants voting rights in the referendum to be extended to 16 and 17-year-olds. With the EU being more popular in Scotland than in England, the issue could once again trigger a public vote on Scottish independence, if Scotland does not get its desired outcome.
Opinion polling currently suggests that voters in Britain would back staying in Europe.
ss/cmk (AP, dpa, AFP)