Corbyn lost the parliamentary confidence vote in Westminster by a large margin on Tuesday, with the Parliamentary Labour Party supporting a no-confidence motion against him by 172 to 40. Four ballot papers were spoilt and another 13 MPs did not vote.
Corbyn said after that he won't resign, but the result is likely to lead to a direct challenge to his leadership as MPs will now look to gather nominations to trigger a formal challenge to his leadership.
A marriage not made in heaven
Corbyn became leader of Labour only nine months ago, winning in a landslide show of support from about 60 percent of Labour's 600,000 members, after the election was opened to include members.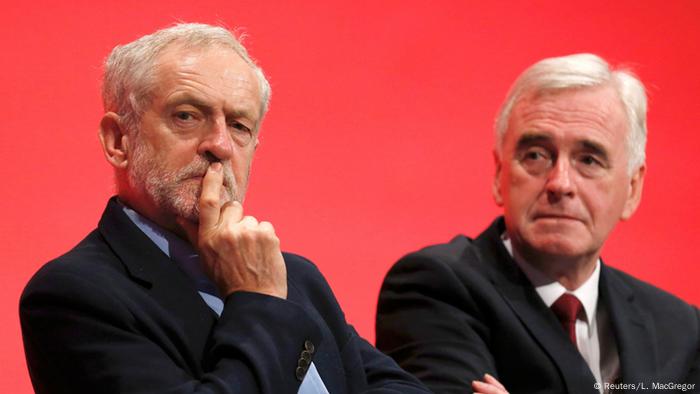 His campaign was openly disdainful of what many on the left of the party saw - and see - as a [ex-Labour PM Tony]Blair[ite] compromise that wins elections at the expense of what they consider to be Labour's traditional principles. This appealed to a wider party audience, but has gone down very badly among Corbyn's parliamentary colleagues, many of whom have plotted to deseat him since the start of his leadership.
Corbyn has been attacked as unelectable throughout his period in charge of Britain's largest party, but was also heavily criticized for not campaigning hard enough to convince Labour supporters about the benefits of remaining within the EU.
The party strikes back
"I was democratically elected leader of our party for a new kind of politics by 60% of Labour members and supporters, and I will not betray them by resigning," Corbyn said after the vote. "Today's vote by MPs has no constitutional legitimacy," he added in a statement.
"We are a democratic party, with a clear constitution. Our people need Labour party members, trade unionists and MPs to unite behind my leadership at a critical time for our country."
"MPs don't choose the leader of the Labour party, the party does," said Diane Abbott, the new shadow health secretary.
Split down the middle
The party has been split broadly between those on the right who see electoral success at the expense of ideological purity as preferable to what they see as Corbyn's lack of electability.
Angela Eagle, who stepped down as shadow business secretary in an attempted coup that has destabilised the party's parliamentary operation, is reportedly a likely contender, while deputy leader Tom Watson and Yvette Cooper are also being talked of as possible alternatives.
Cooper said on Tuesday that Corbyn had no alternative plan for the country's post-Brexit future, in a speech in which she said she would not rule out standing for the Labour leadership should the position become vacant.
Meanwhile, there is legal confusion as to whether Corbyn will now be automatically placed on the ballot for the contest.
jbh/kl (dpa, AP, AFP)