Turkish authorities in some cities have come under criticism for handing out "marriage guides" that advocate mistreatment of women as being beneficial to conjugal bliss.
A 394-page book entitled "Marriage and Family Life" says that wife beatings are a legitimate and recommended means for conflict resolution if a woman refuses to wear makeup for her husband, and recommends that "a wife has to remain quiet and apologize if her husband is angry with her."
Other pieces of advice in the book include the notion that women should not talk during sex "as this will lead to the child developing a stutter" and that they should stay away from public parks and sports facilities. Polygamy is suggested as a way to keep a "wayward" woman in check, as it apparently creates competition among wives.
The book also allows for children as young as 10 years of age to be married.
'No complaints'
The leader of Kütahya's main opposition Republican People's Party (CHP), Zeliha Aksaz Sahbaz, said in December 2016 that the book "depicts woman as second-class citizens and sexual slaves."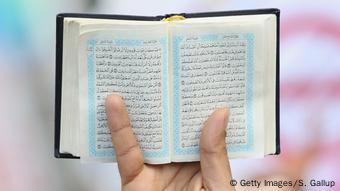 Islamic principles are supposed to back up the view of women as presented in the marriage guide. Its backers say it is justified by verse 4:34 of the Quran and other scriptures
But the mayor of Kütahya, Kamil Saracoglu, a member of the Islamist Justice and Development Party (AKP), defended the writings in an interview, saying there had never been any complaints and that the advice given in the document was based on Islamic principles.
Copies of the same book published under a slightly different title, "Marriage and Privacy," were meanwhile also found in the resort town of Pamukkale. Issued by Pamukkale's city council, those copies have reportedly even made their way to the parliamentary library in the Turkish capital, Ankara.
Unconstitutional
Parliamentarian Fatma Kaplan-Hürriyet picked up one of those copies and said in parliament the writings were in breach of the Turkish constitution, adding that they were reminiscent of Sharia law. Kaplan-Hürriyet, who is also a member of the opposition CHP, said that she sent a request to the municipal prosecution services in Kütahya and Pamukkale, which are both run by the AKP, to start legal proceedings against the book. If they failed to take action, Hürriyet warned, she would take matters into her own hands, seeking to make sure that taxpayers' money wasn't spent on hate speech.
"Each time the AKP mentions the issue of violence against women I will throw this book at them. Whenever they mention child marriage I will stick this book into their eyes," she said, adding she might bring a lawsuit against the municipalities distributing the book to newlyweds. Kaplan's outspoken activism against the publication has drawn a lot of attention in Turkish media.
Members of the AKP, founded by Turkish President Recep Tayyip Erdogan, have acknowledged that the books were unsuitable as actual marriage guidelines; they have, however, not initiated any discourse on the legal status of the writings so far. Education Minister Ismet Yilmaz merely described them as "primitive."
The "marriage guide" was penned by Hasan Caliskan, a former employee of Turkey's powerful Ministry of Religious Affairs, known as "Diyanet," which under successive AKP governments has seen a major increase in funding and support. In reaction to the controversy, Diyanet has reportedly announced that municipalities should ask the ministry before deciding to distribute the book.
Identity crisis
In addition to dealing with widespread terrorism and the consequences of a failed coup in July 2016, the Turkish government has also been embroiled in ongoing discussions on various aspects of gender equality. With crimes against women being tolerated in many parts of the country, some of the debate has moved away from safeguarding equality and toward portraying the two genders as unequal by nature - a concept that would seem to be supported by the publication of these marriage guidelines.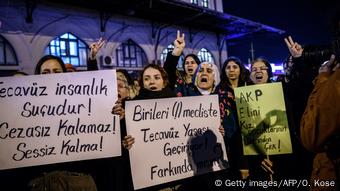 Women have repeatedly joined in protest against violence in recent years, but their message appears to fall on deaf ears with the AKP government
Women's rights groups are, among other things, enraged by attempts in parliament to pardon child rapists, if they agree to marry the rape victim. The motion was rejected only after protests across the country. Earlier in 2016, reports surfaced about child abuse in a government-sponsored charity for children - one that was headed by a woman. The December 2015 rape and murder of student Özgecan Aslan led to protests across the country, but resulted in little to no reaction in government circles. Violence against transgender women meanwhile remains rampant, as many manage to find an income only as prostitutes.
The public discourse on women's rights and domestic violence, sometimes regrettably absurd in nature, has also sparked a debate about the Turkish identity, one forged nearly a century ago by the founder of the Turkish republic, Mustafa Kemal Atatürk.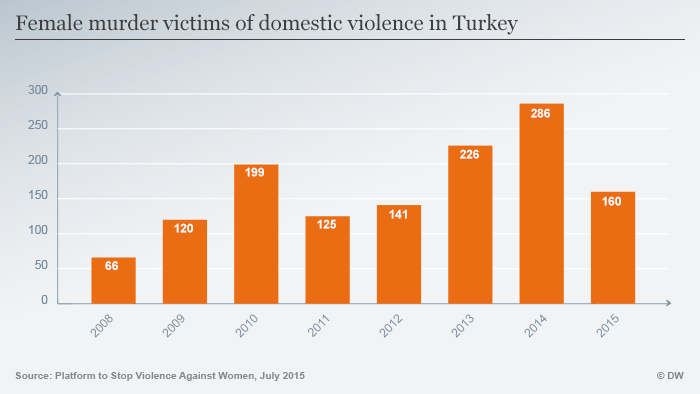 An assault on the secular order
Atatürk's idea of a secular state protected by a secular constitution, which in turn was to be protected by a secular military, has gradually been eroded under Erdogan's leadership, dividing the nation between those who wish to follow a decidedly religious world order and those who follow Atatürk's principle of "laiklik" - a term borrowed from its French counterpart "laicité," meaning the principle of the separation of religion and state.
Atatürk established the Diyanet ministry, the publisher of the controversial guide on marriage, as a means to keep religious affairs away from government. Erdogan has turned this idea on its head and has used the ministry as a way to further expand the influence of Islamist ideas in the public sphere.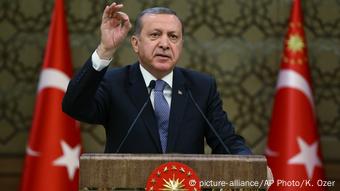 Turkish President Erdogan has openly spoken against equality between men and women, always stressing the role of women as mothers
Meanwhile, the vacuum created by Erdogan's purge against all kinds of social groups, including his gradual withdrawal of power from the military - the constitution's intended guardian - has been filled by only one thing, and that is the expansion of patriarchy. Erdogan himself appears to be the chief representative of this oppressive social system, repeatedly making clumsy comments on women's place in society based on his interpretation of Islam, such as "a women who rejects motherhood (…) is deficient."
Patriarchy at its best
While Islam itself maintains the equality of both genders in many areas and, in particular, the protection of women in certain affairs as expressed in the Koran, it is the cultural aspect of patriarchy that usually gives rise to misogynistic ideas, not only in towns like Kütahya and Pamukkale but throughout the country. Although not always communicated through violence, the daily discrimination against women in Turkey is typically expressed by belittling their concerns.
Kütahya mayor Kamil Saracoglu, for instance, commented that "no one should dare try to make political gains with such unimportant issues while our nation is struggling to rebuild."