Turkish warplanes on Saturday carried out airstrikes against Kurdish positions in the northwestern city of Afrin as Turkish-backed Syrian rebel fighters launched a ground offensive.
Military officials quoted by Turkey's state-run news agency said jets had hit more than 100 targets in the region.
Turkish President Recep Tayyip Erdogan announced the start of the operation, dubbed "Olive Branch," adding that it would soon be expanded to other areas.
"This will be followed by Manbij," he said, referring to a Syrian town to the east held by US-backed Kurdish militias.
The Turkish army said the land and air assault aimed to hit positions held by the People's Protection Units (YPG) and "Islamic State" (IS) militants. However, IS is not known to have a presence in Afrin.
Read more: Turkey signals military incursion into Kurdish-held Afrin in Syria
Both Afrin and Manbij are under the control of the YPG, which Ankara classes as a terrorist organization allied with the Kurdish Workers' Party (PKK), a group that is waging a long-running insurgency in Turkey.
The YPG said the airstrikes had hit Afrin's civilian neighborhoods and left it with no choice but to fight back. "We will defeat this aggression, like we have defeated other such assaults against our villages and cities," it said.
The Syrian government, meanwhile, condemned the offensive, calling it an "attack on Syria's sovereignty." In comments carried by state news agency SANA, it denied "claims by the Turkish regime that it was informed of this military operation."
Buildup at the border
In recent days, Turkey has sent dozens of military vehicles and hundreds of troops to the border area, with top officials saying that an operation was imminent.
Read more: Turkey signals military incursion into Kurdish-held Afrin in Syria
However, in his comments on Saturday to members of his ruling AK Party in the western province of Kutahya, Erdogan did not specify whether Turkish troops had crossed the border.
He said only that Turkey was determined "to clear our country up to the Iraqi border from this terror filth that is trying to besiege our country."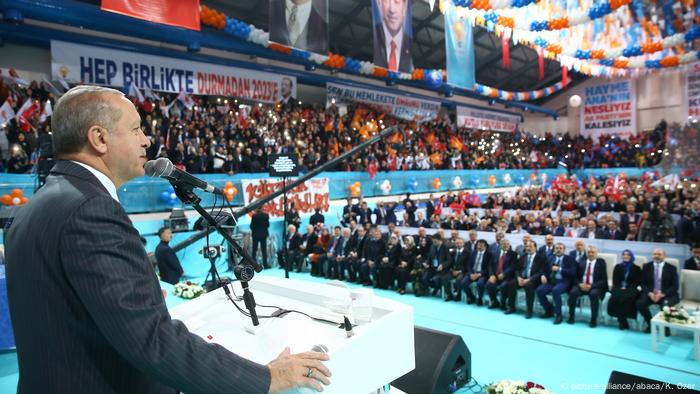 Erdogan wants to rid the border area of Kurdish militants
Risky move
Any major offensive against Afrin entails high military risks for Ankara, with the Syrian government saying it will shoot down any Turkish jets carrying out raids inside Syria.
It will also affect political ties not only with the US, but also with Russia, which keeps military observers in Afrin and has lately improved its relations with the YPG.
In addition, such a move would aggravate the plight of the at least 800,000 civilians in the city, who are already suffering amid a poor humanitarian situation. Many of them have fled fighting in other parts of Syria.
Russia's foreign ministry voiced concern over the operation and called on "the opposing parties to show restraint."
Moscow also said its troops were withdrawing from the area around Afrin "to prevent potential provocation and exclude the threat to the life and well-being of Russian military."
The US, a key ally of the YPG, warned that any Turkish military action against Afrin risks destabilizing the area. Washington sees the YPG as one of the most effective forces fighting against IS jihadis in Syria. Erdogan on Saturday accused the US of failing to keep an earlier promise to force the Kurdish militia out of Manbij following its recapture from IS.
nm,tj/rc (dpa, AFP)