For actress Sila Sahin, being the first Turkish-German woman on the cover of the German edition of Playboy was downright revolutionary.
"I feel like Che Guevara," she told Playboy in the interview accompanying the photo spread.
"What I want to say with these photos is, 'Girls, we don't have to live according to the rules imposed upon us,'" she said. Growing up, her family was more conservative than she wanted to be, she added.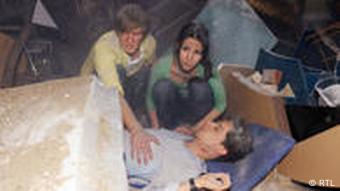 Sahin plays the character Ayla Özgül on the German soap 'Good Times, Bad Times'
"For years I subordinated myself to various societal constraints and did what others thought was right for me," she says in the "making-of" video on playboy.de. "The Playboy photo shoot was a total act of liberation."
Many in Germany rallied around Sahin's declaration of independence.
"I think the photos are great and you have my respect for what you've done. Finally someone was brave enough to do it," wrote one of Sahin's fans on her Facebook page.
Others were less convinced.
Mixed reaction from others of Turkish descent
Some in the Turkish community spoke about the photos being a disgrace and not the kind of thing a Turkish or Muslim woman should do. Sahin told mass-circulation daily Bild that her mother refused to speak to her.
"We're not allowed to do things like that," said Furkan, the owner of a small doner kebab restaurant in Bonn. "Muslims are absolutely not allowed to do something like that."
Asked what he would do if Sahin were his sister or daughter, Furkan was unequivocal.
"I would kill her. If I were to see pictures like that, I would kill her. I really mean that. That's not something for me, not for my culture. I was raised differently. That doesn't fit with my culture."
It's the kind of sentiment that some people believe Sahin is fighting against with her photographs. Many still link the words Turkish, Muslim and headscarf.
"Normally I'd say it's not really emancipated to pose for Playboy," said Maria, a psychology student from Bonn. "But if you come from a culture or a minority in Germany where you cannot show skin at all, like only your face, and then you pose naked in this magazine where women are just photographed to show skin, then I can understand that somehow."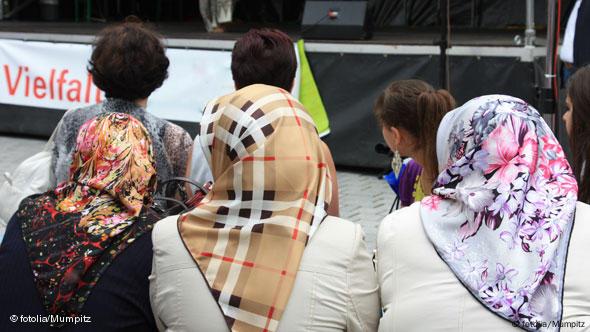 Sahin's photos are surprising to those who assume most women with Turkish roots wear a headscarf
The Turkish minority, however, is not so monolithic.
"I think it's fine. I don't really like it, but to each his own," said Tolga, also a Bonn student and a second generation German of Turkish heritage. If she wants to do that, then she should do that. She's a person too. Of course, from a different culture. But she grew up in Germany just like me."
He said his Muslim faith wouldn't allow him to pose naked like Sahin, but there are distinctions that are being blurred by the controversy around the photos.
"You can see that she's Turkish, that she has Turkish blood, but you have to separate nationality from religion. Okay, she's Turkish, just not that religious. It's two different things."
Turkish? German? Or Turkish-German?
The media frenzy over the first Turkish-German woman on the cover of Playboy has rekindled an ongoing debate in Germany about immigrants and their integration, and whether Islam and German culture are compatible.
Tim, Maria's boyfriend, liked the photos. But he wasn't sure whether to call Sahin Turkish or German.
"She looks more Turkish than German. But if she's born here, she's definitely German. Well, it depends how integrated she is," he wavered. "Definitely there are also some Turkish people here who were born in Germany, but I wouldn't really call them Germans, because they are not really integrated. But she seems to be very integrated, so she's definitely a German."
That Sahin would be considered integrated simply because she posed naked is a contentious point.
"Finally the term 'integration' has been defined: If you take your clothes off and bare yourself you are integrated in Germany. Thanks, Sila Sahin!" wrote one Twitter user.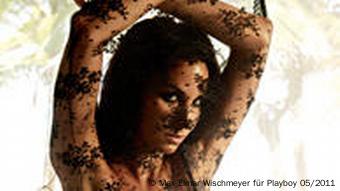 With the way the photograph is lit, it almost looks like Sahin is wearing a headscarf
Despite her nudity, the photos actually emphasize her otherness and her Turkishness with Turkish rugs, gold-embroidered fabrics, a peacock feather and the title "Fire of the Orient." In a thinly veiled reference to the veil, in one photo she pulls a lacy black top over her head, leaving her body naked but obscuring much of her face.
"When you look at the pictures you can see how cheap these people at the magazine think about Turkish, Muslim, Islamic, Oriental people," said Hatice Akyün, who writes a column for the Berlin daily newspaper Der Tagesspiegel and was born in Turkey but grew up in Germany. "It's such a cheap cliché they're using."
Pushing the right buttons
Akyün said she and her Turkish friends were all exasperated to see that a Playboy cover was putting the issue of integration back into the headlines. She accused Playboy, Sahin and her handlers of stirring up controversy for publicity's sake.
"That's how it works in Germany. The integration debate works just like that," she said. "They know exactly which buttons they need to push to get the media to jump all over it."
Gökce Yurdakul, an expert on race, gender and Islam and a professor at Berlin's Humboldt University, was equally disappointed with the way the German media have approached the topic. For too long women have been seen as representations of their nations, she said.
"She's not a daughter of Turkish immigrants; she shouldn't be represented this way in the newspapers," she said. "This is an individual woman who is acting on her own behalf, not as a daughter, not as a part of a community."
Yurdakul said Sahin is just tapping into what Germans expect to read about Turkish and Muslim women, that German society can liberate them.
"I mean she's an entrepreneur, she wants to be a film star, she wants to be recognized in Germany, and that's what Germany buys."
What Germany buys this month may be Playboy magazine. One week after the issue showed up on newsstands, Playboy said it was too early to officially comment on sales. But spokeswoman Nina van Splunter said all indications pointed to a good showing.
Author: Holly Fox
Editor: Nancy Isenson