In an interview with German public radio, Interior Minister Hans-Peter Friedrich distanced himself from previous remarks that had upset some Muslims in Germany and said Muslims do indeed belong in German society.
Friedrich took over the interior minister portfolio earlier this month in a cabinet shuffle and promptly stirred up resentment with comment on the integration of Germany's Muslims, which make up 5 percent of the population.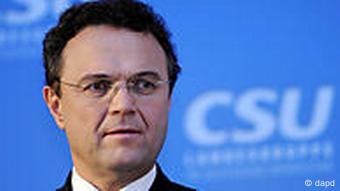 Hans-Peter Friedrich
At the time, he said there was no historical evidence to support the idea that Islam belonged in Germany.
However, during Sunday's interview he seemed to soften this tone.
"The decisive thing for me is that these people belong to this society here," Friedrich said.
The comments come ahead of the annual conference of Islam leaders on Tuesday, which Friedrich will chair.
The conference was created in 2006 by Friedrich's predecessor, Wolfgang Schäuble, to foster the integration of Germany's Muslims.
"I am here to unite. I would like to make that plain at the Islam Conference," Friedrich added.
He also accused his political opponents of using his previous statements to drive a wedge between him and the country's Muslims.
Author: Matt Zuvela (dpa, AFP)
Editor: Kyle James