Many of the major textile brands such as Esprit, H&M, Hugo Boss, S.Oliver, Adidas, Nike and Zara source their clothing from Turkey. These textile exports propelled the country to become the fourth largest clothing manufacturer in the world and number one in Europe. However, textile workers in the country often suffer from poor working conditions and low wages.
A recent study conducted by the NGO "Clean Clothes Campaign," made up of trade unions and NGOs in 16 European countries, concluded that the wages paid by companies to garment workers are barely enough to survive.
The organization assessed the working conditions of some three million people employed in the industry in some eastern EU nations and Turkey. The official minimum wage in Turkey, for instance, is currently equivalent to around 441 euros per month.
'Not enough to survive'
"The wages paid in Turkey's garment industry are barely enough to survive. The workers earn 300 euros a month on average," says Hasan Arslan of DISK, a trade union. Employers did not often pay minimum wages, Arslan claimed.
"More than 40 percent of workers are employed informally, which means employers do not offer them any social security benefits and are not obliged to comply with the minimum wage law," he explained.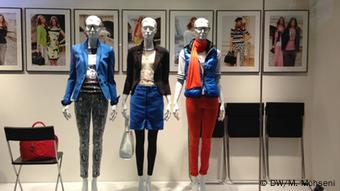 A recent study by the NGO Clean Clothes Campaign concluded that the wages paid to garment workers are barely enough to survive
This view, however, is contradicted by Senol Sankaya, head of the garment maker Yesim Textile. The company supplies textiles to many big global brands such as Nike, Hugo Boss, Zara and Calzedonia.
"Our workers not only receive the minimum wage, but they are paid the subsistence level - 35 percent more than the minimum wage," Sankaya told DW, adding that the firm also paid greater attention to the health and safety of its employees.
That may be true at Yesim Textile. But trade union leader Aslan points out that Turkey ranks number one in terms of the number of industrial accidents in Europe and third spot globally. While Turkish law stipulates a 45-hour work week, workers in the country work on average around 67 hours, Arslan underlined, stressing that in general no compensation is paid for overtime work.
"Workers squeezed like lemons"
The German fashion house Hugo Boss faced criticism as early as in 2011, when Turkish media sources reported that 74 garment workers in the western city of Izmir had been dismissed. The Textile, Knitting and Clothing Industry Workers' Union, TEKSIF, had described the working conditions as "murderous."
According to TEKSIF, many employees in Izmir wanted to join trade unions in a bid to defend their interests and protect themselves against poor working conditions. According to the union, this move by workers was the very reason for the dismissals.
TEKSIF's expert Ömer Seyfettin Atilgan told DW that working conditions in the sector were a problem even today. "In Hugo Boss's factory, workers are squeezed like lemons. New people, therefore, are frequently hired," he said.
Factory owner Sankaya, nevertheless, defends Hugo Boss by saying: "We have good relations with the company. They come regularly to us to check on things. We have certificates, which ensure that working conditions comply with European standards."
But this is obviously not the case everywhere, said trade unionist Arslan. He blames both the employers as well as the Turkish government for poor working conditions. "Although the country's constitution guarantees workers the right to set up and join trade unions, the government has so far failed to sufficiently address violations of the law by employers, Arslan told DW.
"For working conditions to improve, there should be greater unionization in Turkey," Arslan added, indicating that only 7 percent of workers in the country are currently unionized.
Getting better
Ertan Hosgör, trade union representative of the company Henateks, also criticizes working conditions in the textile industry. "Every workplace should have a ventilation system.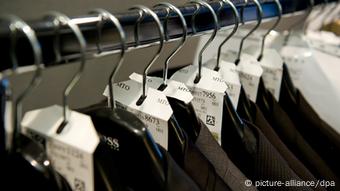 Turkey is Europe's largest textile manufacturer and many global brands source garments from the country
In summer, particularly, we work in the heat and there is usually no air conditioning. Furthermore, the machines we operate are very old," Hosgör told DW. His wife works in a jeans factory.
"The jeans dye sticks to the skin and is unhealthy. It is a must to take a shower in these factories, but almost all companies lack such facilities," he explained. The Turkish government must ensure certain standards and their compliance," he demanded.
Nevertheless, Hosgör has some praise for international companies such as Nike, Adidas and Puma. These firms regularly monitor the working conditions, the trade union leader said. "They also inspect whether workers are unionized, how much they are paid and the employer-employee relations, among other aspects. As a result, there has been an increasing pressure on employers, and the situation is improving," Hosgör underlined.