The Turkish government's preliminary decision to opt for a Chinese-made missile defense system over EU and US alternatives has angered Washington, with the State Department warning that Chinese technology cannot be integrated into NATO's defense infrastructure.
Ankara has agreed to begin negotiations with Beijing over the delivery of 12 FD-2000 missile defense batteries, worth an estimated $3.4 billion (2.4 billion euros). Although the deal has not yet been signed, the Turkish Defense Ministry has openly said it prefers the Chinese offer, citing the cheap price and Beijing's willingness to transfer the FD-2000's technology to Ankara.
"We had asked for joint production and technology transfer," Turkish Defense Minister Ismet Yilmaz told the Vatan newspaper. "If other countries cannot guarantee us that, then we will turn to ones that can."
But the Chinese company handling the deal has also been sanctioned by the United States as a result of its previous exports. The China Precision Machinery Import-Export Corporation (CPMIEC) has allegedly transferred arms to Iran, North Korea and Syria.
"We have conveyed our serious concerns about the Turkish government's contract discussions with the US-sanctioned company for a missile defense system that will not be inter-operable with NATO systems or collective defense capabilities," State Department spokeswoman Jen Psaki told a daily briefing for reporters.
According to Turkish foreign policy expert Sinan Ülgen, Ankara is not seeking to send any sort of political message to its NATO allies by opting for a system produced by a US-blacklisted company. Instead, Beijing's offer was simply better than those made by the US companies Raytheon and Lockheed Martin as well as the Franco-Italian firm Eurosam.
"This [Chinese] company happened to fulfill the criteria Turkey had set for itself in terms of price, in terms of performance and in terms of technology transfer," Ülgen , with the Carnegie Endowment for International Peace, told DW.
"And Turkey's own national objectives were more important than the fact that this company happened to sanctioned by the US," Ülgen said.
China makes global arms inroads
Beijing has become increasingly competitive with the world's major arms exporters in recent years. In March, the Stockholm International Peace Research Institute (SIPRI) reported that China had surpassed the United Kingdom as the world's fifth largest arms exporter. From 2008 -2012, Chinese weapons exports increased by 162 percent.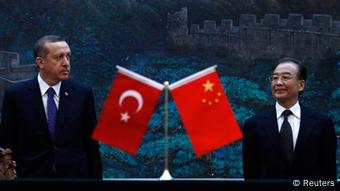 Best of friends?
According to arms trade expert Pieter Wezeman, poorer nations "have discovered that Chinese weapons are both cheap and useful." Not only has the quantity of China's arms exports increased, but the quality of Beijing's high-end weapon systems is also improving.
"Most (analysts) agree that that China really has managed to improve its military technology in recent years significantly," Wezeman, with SIPRI, told DW.
Beijing also places fewer political conditions on arms exports, Wezeman said. And unlike Washington, China is willing to share weapons technology with its customers, such as Turkey. If Beijing succeeds in closing the deal for the FD-2000 with Ankara, it would show that China is making inroads into the traditionally Western and Russian-dominated high-end arms market.
"It's a major step for the Chinese arms industry," Wezeman said. "Not only because Turkey is a NATO country, but also because it does involve the latest kind of technology as opposed to what has been supplied to most other states."
US concerns
But the deal with Turkey still faces major political hurdles. Although Ankara claims that the FD-2000 can be technically integrated into NATO's defense infrastructure, the US is not keen on seeing its ally use a Chinese missile defense system. Washington is concerned that installing the FD-2000 into NATO's ballistic missile network could compromise the alliance's security.
"This system needs to receive some of the satellite and radar signals intelligence in order to work properly," Ülgen said. "And that integration is what introduces the risk of having some of this confidential information about how the whole ballistic missile defense system of NATO works to be open to Chinese inspection."
In response to the backlash from NATO, the Turkish government has begun backpedaling. Turkish President Abdullah Gül said that China was at the top of a shortlist, but that the deal was not final, adding that "there is no doubt that Turkey is primarily in NATO."
"Ankara is testing the waters, seeing how serious of a backlash this would generate," Ülgen said. "And depending on that, will eventually confirm its decision to opt for the Chinese system or to decide to go for a system that would be possibly more expensive, but more technologically advanced and compatible with NATO."