President Recep Tayyip Erdogan, sworn in for a new term less than a week ago with sweeping new powers, exercised his new authority on Sunday by issuing a series of decrees that will reshape political, military and bureaucratic institutions. The moves coincided with the second anniversary of a failed coup attempt.
The checks and balances of a parliamentary democracy are now essentially gone, replaced by a president with broad powers that include the authority to appoint and remove senior civil servants.
The prime minister's position has been abolished, leaving the president as both the head of state and government. Erdogan's new powers include authority over the judiciary and the ability to rule by decree.
He insists that a powerful presidency is necessary to improve government efficiency, enhance economic growth and ensure security.
His critics scoff at such claims, insisting the changes are nothing more than a power grab that is pushing the country towards authoritarian rule.
In all, the country's Official Gazette published seven decrees affecting various state institutions, including the National Security Council, the Defense Industry Directorate and the State Supervisory Council.
State of emergency
Among the changes, the General Staff is now under the control of the defense minister. The move follows Erdogan's hand-picked military commander Hulusi Akar as defense minister.
The changes come on the second anniversary of failed coup attempt that left at least 250 people dead. Nearly three dozen alleged coup plotters were also killed.
The government declared a state of emergency after the failed putsch that is set to expire this week.
Erdogan's AK Party and its nationalist ally are expected to introduce new security regulations to ensure the "fight against terrorism" continues after the state of emergency ends.
Erdogan and other top officials marked the anniversary of the failed coup by attending a reading of the Quran in the capital, Ankara, followed by a series of prayer events.
Ali Erbas, the head of Turkey's religious affairs, prayed for the victims of the coup, including the more than 2,000 who were injured. He said, they were the victims of "traitors who are the pawns of foreign powers."
Erdogan reportedly recited Quranic verses in Arabic.
Read more: Erdogan: The sultan of Turkey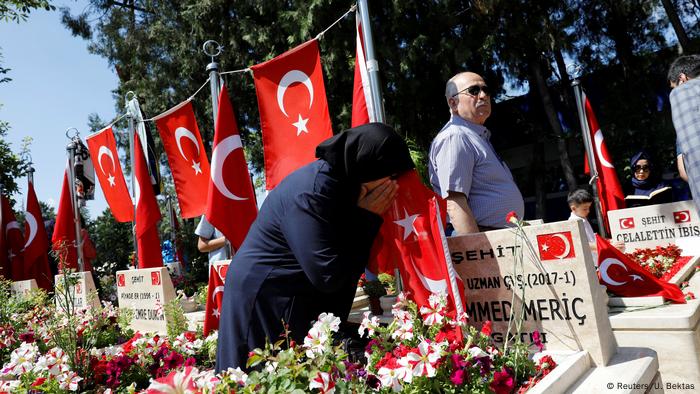 A woman mourns at the grave of her son who was killed during the failed coup in 2016
bik/aw (Reuters, AP, dpa)
Each evening at 1830 UTC, DW's editors send out a selection of the day's hard news and quality feature journalism. You can sign up to receive it directly here.