Turkish Foreign Minister Mevlut Cavusoglu delivered a fiery speech from the balcony of the Turkish consul's residence in Hamburg on Tuesday night, condemning Germany for repeatedly blocking speeches from Turkish ministers.
Cavusoglu criticized German police and authorities for working to cancel Turkish speeches, saying that "Germany maintains a systematic antagonism against Turkey."
Cavusoglu said Germany should stop lecturing Turkey on human rights and democracy, claiming that Europe was being hypocritical, given its serious problem with racism, anti-Semitism, anti-Christianity and crimes against humanity.
Cavusoglu accused Germany of interference saying "We do not interfere with the domestic policy of a friendly country."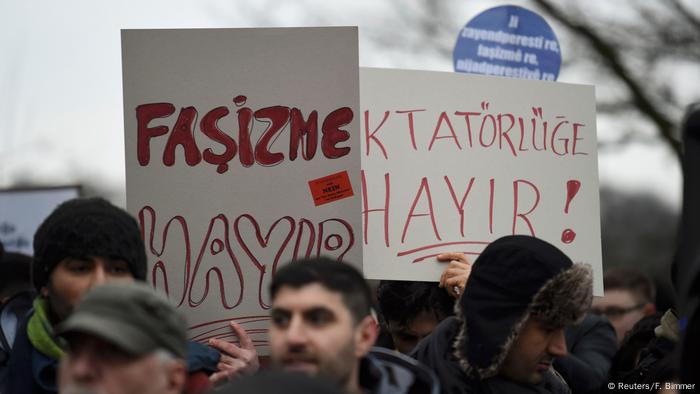 Local police reported 300 people turned up to protest against Cavusoglu.
A crowd of 100 Turkish supporters gathered in the evening to hear Cavusoglu campaign for an upcoming referendum in Turkey to grant President Recep Tayyip Erdogan further powers.
The al fresco speech came after Hamburg authorities shut down a previous venue at the 11th hour - the fourth such cancellation in the past weeks for Turkish ministers seeking to hold referendum rallies in Germany, where roughly 1.4 million eligible Turkish voters reside.
About 300 people demonstrated outside the consul's residence, calling for a "no" vote in the referendum and condemning Erdogan's crackdown on press freedom and political opposition since July's failed coup attempt. A heavy police contingent was present.
Ahead of the speech Cavusoglu revisited controversial comparisons to Nazi Germany.
"This is a totally repressive system," he told the newspaper "Hürriyet." All practices resemble those of the Nazi era."
Bundestag MP Niels Annen, a member of the foreign affairs committee, told Deutsche Welle that Erdogan's tactics - seeking to pick a verbal fight with Germany - were an attempt to "appear strong [at home], when he's actually weak." Polls do suggest that Erdogan's AKP might struggle to push through its desired reforms, or at least that the vote could prove close.
Fire safety
Following Monday'scancellation of a planned appearance in the nearby district Wilhelmsburg , it wasn't immediately clear whether Cavusoglu's rally - part of a broader ministerial visit - would go ahead.
As the dispute over the ex-pat campaign in Germany escalated, Erdogan on Sunday likened the cancellations to "Nazi practices." German Chancellor Angela Merkel brushed aside Erdogan's claims, however, saying they were so "out of place" that it wasn't even possible to issue a serious comment in response.
Cavusoglu had also accused Berlin of working to scupper the rallies.
"The hotels, the conference halls are being put under pressure, police are being sent to the owners of these places: it's systematic pressure, a maneuver aimed at erecting systematic barriers," he said on Monday.
#FreeDeniz
The ongoing dispute between Berlin and Ankara comes follows a drastic downturn in diplomatic relations in recent weeks after the arrest of German-Turkish journalist Deniz Yucel.
Yucel, a journalist for the German newspaper "Die Welt," was detained by Turkish authorities on February 14, making him the first German reporter to be detained in Turkey as part of Erdogan's wide-scale crackdown on press freedom.
The 43-year-old, who has penned several articles critical of the Turkish government's treatment of ethnic Kurds, has been in jail ever since, pending his trial for alleged terrorism propaganda.
aw, ksb/msh (AFP, dpa, Reuters)