The 24 municipalities in the southeastern region were run by local associates of the pro-Kurdish opposition Peoples' Democratic Party (HDP), which is the third-largest group in the country's parliament.
The officials are suspected of colluding with terrorist groups, according to the Interior Ministry. New administrators were appointed in all of the municipalities.
President Recep Tayyip Erdogan said the mayors in question had been aiding Kurdish militants based in the mountains of southeast Turkey and northern Iraq.
"It is a step taken too late in my opinion," Erdogan told reporters in Istanbul on Monday, a day after the crackdown. "It should have been taken sooner, and it was my advice to do so earlier."
Erdogan added that any municipality which had supported militants would have to pay the price.
Media reported clashes between protesters and the police in the Kurdish-dominated areas after authorities announced the move, with police using tear gas and arresting several people.
The main pro-Kurdish party protested the crackdown, calling it an "administrative coup."
Erdogan claims PKK tried to boost attacks
Marking the Muslim Eid al Adha holiday on Sunday, President Erdogan said that the Kurdistan Workers Party (PKK), which has waged a three-decade insurgency for Kurdish autonomy, had been trying to step up its attacks since a failed coup attempt in July. The aim was to disrupt Turkey's military operations in Syria, Erdogan said.

"The PKK has suffered a distinct failure in these bloody attacks, which it has conducted at the cost of its most serious losses in its history," Erdogan said on Sunday.
"No democratic state can or will allow mayors and parliamentarians to supply the municipality's resources to finance terrorist organizations," Justice Minister Bekir Bozdag said on Twitter of the dismissals.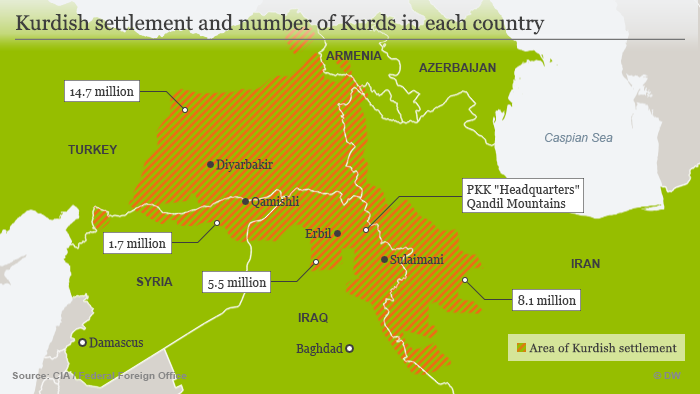 Nationwide crackdown
President Recep Tayyip Erdogan launched a nationwide crackdown on opposition activists after a failed military coup against his rule in July. The target of the purge is mainly supporters of US-based Muslim cleric Fethullah Gulen, whom Ankara accuses of masterminding the putsch.
On Sunday the government also removed the mayors of four other municipalities – three from the ruling AK party and one from the nationalist MHP opposition – over alleged links to Gulen.
On Friday, Turkish officials had suspended 1,151 teachers in the Kurdish eastern provinces of Tunceli and Van.
Erdogan views the HDP as an extension of the Kurdish PKK militant group. The HDP denies the claim and says it wants a negotiated settlement to the three-decade insurgency for Kurdish autonomy. The PKK has been waging a war since 1974, when it took up arms to fight for an independent Kurdish state in Turkey's east and south.
Nearly 40,000 people, including teachers, journalists, soldiers, businessmen and lawyers, have been arrested in Turkey for suspected links to Gulen. Tens of thousands of government employees have been suspended from their jobs.
shs/jm (Reuters, AP)