"We can confirm now that Turkey has requested the extradition of Gulen," State Department spokesman Mark Toner said Tuesday in Washington without providing additional details.
Relations between Turkey and the United States have hit a rough patch, with Ankara entertaining closer relations with Russia and reportedly weighing up a new approach to the war in Syria. Turkish Prime Minister Binali Yildirim recently appeared to warm to the possibility of Syrian President Bashar al-Assad maintaining a role in a transitional government.
The United States has also been concerned by Turkey's diplomatic flirtations with traditional US foe Iran.
Turkish President Recep Tayyip Erdogan even accused the US of supporting or backing the July 15 coup that aimed to remove him from power.
Mission impossible
Vice President Joe Biden arrives in Ankara on Wednesday, reportedly not bearing assurances that the US will agree to Turkey's demand to extradite Gulen, who has lived in the US state of Pennsylvania for 17 years in self-imposed exile. He has denied any involvement in the coup attempt.
"The vice president will also reaffirm that the United States is doing everything we can to support Turkey's ongoing efforts to hold accountable those responsible for the coup attempt while ensuring the rule of law is respected during the process," a senior Obama administration official told reporters.
The US has said it wants additional evidence from Turkey to substantiate its claim that Gulen was behind the overthrow attempt in July. Before the July 15 coup, Turkey had already submitted 84 dossiers on Gulen and his movement to US authorities, and it has sent another four since the coup, Yildirim said.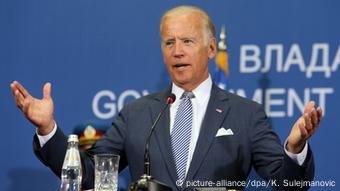 Joe Biden in Serbia earlier this year
War of words
The perception of a slow response by Washington has angered Erdogan and sparked an outpouring of anti-Americanism from pro-government media. Turkish media reported that Erdogan planned to visit Tehran on Wednesday - the same day he's also slated to meet Biden.
The US, for its part, appears to have lost some faith in Erdogan after crackdowns on the media and other civil rights and attacks on outlawed Kurdish rebels - sometimes at the expense, in the Obama administration's view, of focusing on the so-called Islamic State (IS).
Turkey's fragile security was highlighted over the weekend when a suicide bomber killed at least 54 people at a Kurdish wedding celebration in Gaziantep, near the Syrian border.
jbh/sms (Reuters, AP)