On April 19, Turkey's religious-conservative government ordered its embassies to offer the Islamische Gemeinschaft Milli Görüs (IGMG) their support. The group, formed in 1985 in Cologne to support Turkish nationalism and oppose the separation of state and religion, has long been criticized by German officials as being anti-Semitic and against liberal Western values.
Turkish Foreign Minister Abdullah Gül on Saturday refused to discuss his specific directions to diplomats regarding Milli Görüs, saying only the government "has for some time tried to strengthen the ties between our country and our citizens overseas."
The decision comes only two weeks after an agreement between Germany and Turkey on combating organized crime incensed many members of Turkey's ruling AK party because it included Milli Görüs with groups like the Kurdish terrorist outfit PKK. Since many AK members have ties to Islamic religious groups, Gül was compelled to say he did not consider Milli Görüs a terror organization.
Concern over possible links
Although few contend the group is actively involved in criminal or terrorist activities, officials from Germany's domestic intelligence service remain concerned over possible links to Islamic extremists and comments by Milli Görüs members deemed incompatible with the German constitution.
"It's goals are not completely clear. There have been statements and publications that have clouded the picture," Kai Hirschmann, a terrorism expert and professor at the Federal Academy for Security Policy in Bonn, told DW-WORLD. "It's not a criminal organization but it's not completely harmless."
But the organization, which has repeatedly said it accepts the democratic ideals of Germany and Europe, rejects charges that it incites hatred or aims to subvert German laws and values. Milli Görüs has around 30,000 members in Germany and supports over 500 mosques and 2,000 regional groups nationwide. To convince others of its good intentions, the IGMG has recently begun a charm offensive.
"The IGMG has changed. The focus of our life is in Germany," Oguz Ücüncü, Milli Görüs general secretary, told the Süddeutsche Zeitung newspaper. Religious rules "are for us appropriately based on the circumstances here in Germany."
Erdogan's rise
Some observers say the attempt to reform its public image could be at least partly linked to the rise of Turkish Prime Minister Tayyip Erdogan and his AK party.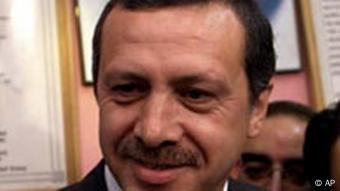 Turkish Prime Minister Recep Tayyip Erdogan.
Coming to power in a landslide victory last year, Erdogan styles his party as a modern conservative group based on Muslim values. He has distanced himself from former mentor Necmettin Erbakan, who founded the Islamic-influenced Welfare Party.
Erbakan's nephew, Mehmet Sabri Erbakan, was IGMG chairman until he left office after allegedly having an extra-marital affair. That has allowed the Milli Görüs head Yavuz Celik Karahan to pursue friendlier ties to Erdogan's government. But Hirschmann from the Academy for Security Policy in Bonn said the rapprochement was likely a two-way street.
"There is now a government in Ankara that supports religious activities," he said. "I can understand why Ergodan would aim to support such groups and strengthen contacts with organizations abroad. We'll have to wait and see how things develop."