Security observers have expressed concern that Turkey could be in for a wave of terrorist attacks inspired by the "Islamic State" group in the wake of the murder of 39 people by an IS gunman at an Istanbul nightclub in the first minutes of 2017. The group claimed that the assault was retribution for attacks on IS by Turkey's military in Syria and has attempted to use the murders as a tool to inspire fresh killings.
Hilmi Demir, a researcher who specializes in extremist groups at the Ankara-based Economic Policy Research Foundation of Turkey, told DW the think tank had conducted a field study that found that ideological radicalism is on the rise among young people. Demir said this could lead to an rise in IS-inspired assaults in the near future.

"These kinds of big attacks create an enormous inspiration, willingly or unwillingly, among the youth, who have been in the process of ideological radicalization," said Demir, who also works as a professor at Hittite University. "It could lead to attacks committed by individuals, but not necessarily IS-linked cells," he added.
"The potential for ideologically radicalized individuals to commit such attacks is increasing," Demir said. He added that groups such as IS are able to create flashy social media content to lure young people who have become interested in extremism.

Dogu Eroglu, who covers terrorism for the newspaper Birgun, had similar thoughts. "The Islamic State command center thinks the attacks in Turkey created a positive impact - at least the propaganda continues that way," Eroglu told DW. "If the Islamic State continues this propaganda, we will see Islamic State-inspired attacks, because in propaganda tools Turkey is shown as the largest target," he said.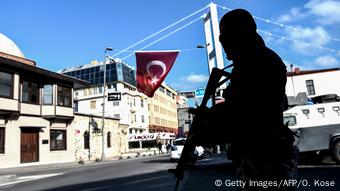 Security has increased after each subsequent attack

'A priority threat'
Turkey has been shaken by numerous terrorist attacks in the past 18 months, and IS has been blamed for at least half a dozen of them. At the beginning of 2016, the group claimed responsibility for a suicide attack that killed 13 people in Istanbul's Sultanahmet neighborhood.
"Terror is a priority threat, and to cope with this threat, all the state institutions were mobilized," an Interior Ministry official said. "To destroy this threat, all necessary warnings are being made to our citizens regularly," the official added. "We always said that in counterterrorism we will not make concessions."
Turkish police blame IS for a triple suicide-bombing attack that killed 41 people at Istanbul's Ataturk Airport in June. Like the nightclub shooting, the airport bombings were committed by foreign nationals who seem to be acting on direct orders from Raqqa, IS's self-declared capital in Syria.

"Clearly the Turkish government and Islamic State are in a state of war," Anthony Skinner, director of the Middle East and North Africa practice at Verisk Maplecroft, told DW. "But I would say that the motivation for Islamic State to launch attacks in Turkey has increased in no small part as a result of the incursion of the Turkish armed forces in northern Syria, particularly the offensive in Al Bab." Skinner said "the risk posed by Islamic State will remain acute because of the dynamics in Syria." He noted, however, that Turkey has made it harder for fighters and weapons to reach IS across the common border.
Turkey's multifront war
Since it began in 2011, Syria's civil war has had a direct impact on its neighbors' security. "Between 2012 and late 2014, I would say not all resources of the state were dedicated to go after them - particularly the smuggling network," Aaron Stein, who researches Turkish and regional security as a fellow at the Atlantic Council in Washington, DC, told DW. "There seems to be a live-and-let-live policy so long as their violence was directed inside of Syria, not inside of Turkey." However, Stein said, Turkey's government has shown a concerted effort to go after IS since early 2015. The country launched its cross-border Euphrates Shield military operation against IS targets in Syria in August.
The pressure on IS has intensified as bombing raids on the group's positions in northern Syria increase. Stein said he would expect more attacks in the near future.
"In Istanbul alone I can think of 50 different targets just off the top of my head, and the police can't be everywhere all the time," Stein said. "Despite claims in the Turkish press, making an IED (improvised explosive device) is quite easy, access to materials is quite easy, and purchasing an AK on the black market in Turkey is quite easy. All the means to carry out terrorist attacks inside of Turkey are available very easily."
Officials have tried to crack down on IS safe houses in Istanbul and other cities. However, security forces are stretched. Security forces have also been fighting the Kurdistan Workers' Party (PKK) in southeastern Turkey since a ceasefire collapsed 2 1/2 years ago, and other domestic and international militant groups.
"What they are having trouble with is what every government around the world is having trouble with, which is deradicalization," Stein said. "Sober and rational" officials in Turkey, he added, "would tell you they struggle with counter-radicalization both on the left with the PKK and on the right with the Islamic State - they don't have concerted efforts to do so."
TEPAV's Demir said the risk of another attack in Turkey was rising. "There is a significant risk period of five years for Turkey," he said. "These kinds of organizations' attacks will increasingly rise."
According to a January 18 report in the newspaper Hurriyet, Iraqi intelligence agencies spotted several IS militants crossing the border into Turkey.
(Additional reporting was provided by Hilal Köylü in Ankara.)