Tunisian Prime Minister Mohamed Ghannouchi announced his resignation on state television on Sunday amid renewed anti-government rallies in the country, calling for his removal.
"I have decided to quit as prime minister," Ghannouchi, 69, told a news conference, saying that he had thought carefully before taking the decision which was supported by his family.
"I am not running away from responsibility. This is to open the way for a new prime minister," he said. "I am not ready to be the person who takes decisions that would end up causing casualties," he said.
"This resignation will serve Tunisia, and the revolution and the future of Tunisia," he added.
Close ally of Ben Ali
Tunisia's caretaker President Fouad Mebazaa has named former government minister Beji Caid-Essebsi as the country's new prime minister and called for calm.
Ghannouchi was a close ally of former Tunisian President Zine El Abidine Ben Ali who was toppled on January 11 after a wave of angry protests in light of rising food prices and unemployment.
Ben Ali, who ruled Tunisia for 23 years, has since fled to Saudi Arabia.
Ghannouchi, who took over the interim government, had pledged to lead the country until elections planned for the summer.
Renewed street protests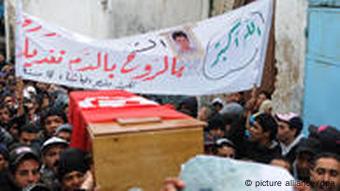 Fresh protests have broken out in the capital Tunis
Ghannouchi's resignation comes after two days of renewed rallies in Tunis, calling for a new government and a new constitution.
According to official figures, at least five people have died in demonstrations since Friday and up to 200 injured.
The protests turned violent as riot police and masked police in civilian clothes fired warning shots and tear gas at hundreds of protesters.
Security forces acted to stop protesters, who were chanting anti-government slogans, from storming the interior ministry.
In the biggest of several rallies against the transitional authority, about 100,000 protesters marched down the capital's main avenue on Friday shouting slogans.
The fall of Ben Ali after 23 years in power sparked similar uprisings in the Arab world, including one that led to the downfall of long-time Egyptian President Hosni Mubarak on February 11 and another under way in Libya.
Author: Richard Connor (AFP, Reuters)
Editor: Sonia Phalnikar