The retirement pension system in Greece is considered one of the most expensive in Europe. Politicians in Athens have been debating a reform since the 1990s – and then they distance themselves from the proposed measures, or they implement tiny reforms instead of large ones.
Whereas in the early 1980s four employees would have had to pay for one pensioner, now they finance three retirees. The general retirement age in Greece was, in any case, increased to 67 years after the outbreak of the debt crisis – but only for those who entered the labor market after 1993.
But apparently that's not enough. "The reform of the retirement pension is a neverending discussion in Greek society, but powerful interest groups always were able to block a comprehensive pension reform, so that they could continue to profit from cheaper conditions and from state direct financing of their social security insurances, " said Dimitris Sotiropoulos, associate professor of political science at the University of Athens.
The privileged insurance groups include lawyers, bank employees and journalists, whose pension funds were financed through indirect taxes. "If nothing changes, we will have to spend 35 percent of our economic performance on pensions in 20 years' time," warned Sotiropoulos.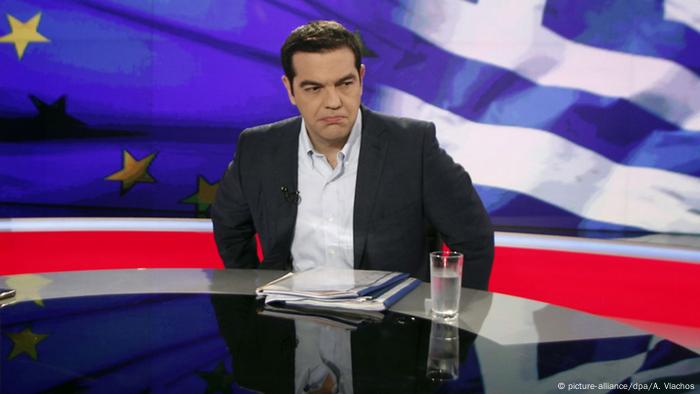 Greek Prime Minister Alexis Tsipras wants to reform the country's pension system
384 euros as basic pension
In order to close the shortfall, Labor Minister Jorgos Katrougalos has been working on a fundamental pension reform, whose details still have to be negotiated with Greece's creditors. But this much seems to be finalized: In future, every Greek citizen is entitled to a state-guaranteed basic pension of 384 euros a month, which is an absolute minimum living wage. In addition to this comes a further pension, the amount of which is dependent on payments made to statutory pension insurance, which wouldn't amount to more than 2,300 euros. Those who want more will apparently have to obtain a private insurance for themselves. But this raises the question of generation equality, warned Sotiropoulos. "We estimate that those who retire after 2016 under the new rules will suffer pension cuts of up to 30 percent. There have been similar reform measures in other European countries in the past. However, those transitional periods and regulations were more generous," said the political expert.
According to media reports, today's contributors in Greece will have to accept pension cuts of an average of 15 percent. It not only about the cost-effectiveness of the pension system: For the Left-wing government of Alexis Tsipras the pension reform is the most important pre-condition for the so-called evaluation of the Greek economy by the credit donor. This should pave the way for a sustainable debt regulation. For this purpose the controllers of the "Quartet" (previously Troika) are expected this week in Athens, but the date of the meeting appears to have been postponed.
The proposed pension reform is still be being "examined," said EU Commission spokesperson Margaritis Schinas on Monday in Brussels. Greek state television warned about being too hasty – arguing that without a pension reform there could be no sustainable debt regulation. Greek Prime Minister Tsipras also applied some pressure: Without reforms the pension insurances would no longer be in a position to pay out pensions in five years, the left-wing politician warned in an unusually sharp tone at the beginning of January.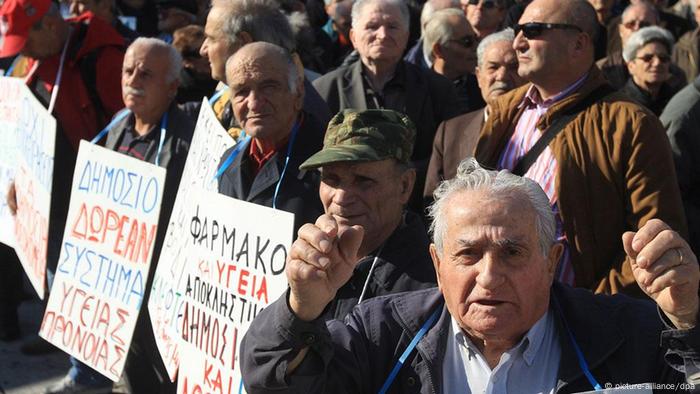 Retirees have been protesting the changes and fear impending cuts
Protests against increases in social security contributions
To stem resentment among the people, the government has come up with an alternative in the last few days. Cuts will, if possible, be avoided. In return, the social security contributions will have to be drastically increased, according to official sources in Athens. For employers and employees alike, statutory payments for pension insurance will be increased by roughly 1 percent. The self-employed will be hit harder. Those for example who have an annual income of 30,000 euros and currently pay 5,163 euros into social security will have to be prepared to pay 8,085 in 2016 – an increase in contributions of 56.5 percent. Farmers will also lose out because their social security contributions beginning in 2017 will have nearly tripled. "An increase in social security contributions has a deterrent effect, will harm employment and cause tax evasion," social expert Xenophon Kontiadis told TV channel Skai. He was a member of a commission that has been working out reforms for Greek retirement pensions since August 2015. But the proposals were largely ignored by the government, he complained.
Farmer associations have announced protest action for Wednesday. Lawyers have threatened to strike indefinitely. The insurance fund of the seamen, NAT, will also go on strike. It is soon to be merged with other insurance schemes. On Saturday, the powerful civil servant union ADEDY has called for a mass demonstration against the pensions reform in Athens.