US President Donald Trump on Friday praised former aide Rob Porter for his "good job" at the White House.
Trump stressed that Porter, who is facing allegations of domestic violence by his two former wives, had maintained his innocence.
"He says he's innocent, and I think you have to remember that. He said very strongly yesterday that he's innocent," Trump told reporters in the Oval Office.
"It's obviously a tough time for him. He did a very good job in the White House. And we hope he has a wonderful career," Trump added. "But we absolutely wish him well."
Trump, however, did not express any sympathy for Porter's former wives, who earlier this week went public with their allegations, providing graphic accounts of the verbal and physical abuse.
Read more: Opinion: One year of Donald Trump — time for a sober examination
White House inaction in question
The scandal has rocked the White House, with Chief of Staff John Kelly reportedly offering to resign his post over his handling of the allegations.
Porter resigned on Wednesday amid questions about why it took so long for White House to act after the accusations came to light.
Some senior White House officials were generally aware of the allegations before Trump found out from a report in the Daily Mail, Reuters news agency reported, citing a source familiar with the matter.
Responding to the report, Kelly initially defended Porter, calling him a man of "integrity."
Read more: Opinion: Steve Bannon's demise is not the end of Trumpism
Kelly later said in a statement he was shocked by "new" allegations against Porter, and stressed that domestic violence is unacceptable.
White House deputy press secretary Raj Shah on Thursday said Kelly was not "fully aware" of the extent of the allegations against Porter until photographs of one of his former wives with a black eye emerged.
But he conceded the situation could have been better handled.
"It's fair to say we all could have done better over the last few hours or last few days in dealing with this situation," Shah said on Thursday.
Read more: Why Donald Trump's immigration deal is a hard sell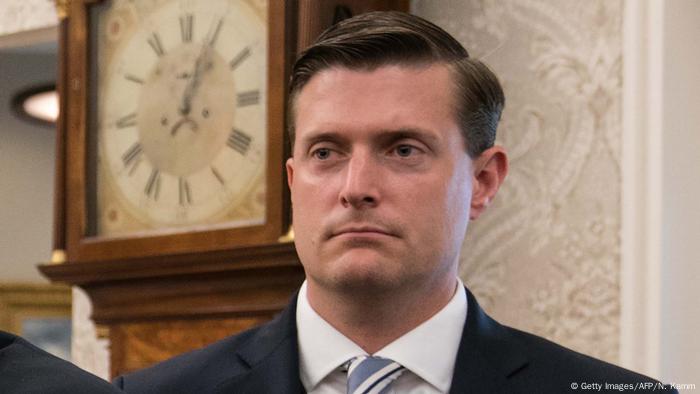 Rob Porter was yet to get a security clearance for his White House job
Pending security clearance
Porter had regular close contact with Trump as staff secretary. His job involved reviewing all documents signed by the president, from legislation to executive orders.
The Harvard law School graduate somehow managed to carry on in the high-profile position which involved access to classified information despite not having a mandatory security clearance.
The Federal Bureau of Investigation was still conducting his background check as required for the clearance.
Jennie Willoughby, one of Porter's ex-wives, said in an interview with a US broadcaster on Friday that she told the FBI during Porter's background check that he had been abusive toward her.
"Of course, I was part of the background check and I was completely honest with my experience of the marriage, including telling the police instances of abuse or police contact," said Willoughby.
Second aide resigns
Reflecting the widening scandal, a second White House staffer resigned late on Friday over domestic abuse claims.
David Sorensen, a speechwriter, stepped down after his wife said he was abusive. Sorensen denied the claims, but said he didn't want the matter to become a distraction..
"I didn't want the White House to have to deal with this distraction. It should be able to focus on continuing President Trump's historic accomplishments for the American people," he told the Associated Press.
ap/bw (Reuters, AP, dpa)