The newest member of US President Donald Trump's often-changing legal team is perhaps the oldest practitioner of Trumpian politics – former New York City mayor Rudy Giuliani, who announced late Thursday that he was leaving powerhouse law firm Greenberg Traurig to focus solely on defending Trump in the Mueller investigation.
But sources inside the firm have told New York media that Giuliani's departure was prompted by what critics have described as recent "erratic" behavior during a blitz of media appearances in support of the president.
Giuliani has directly contradicted his now-client's statements on payments made to adult film actress Stormy Daniels, announced the release of US prisoners from North Korea before an official statement, and offered an explanation for the firing of former FBI Director James Comey that varied wildly from the White House line.
While his conduct has led some detractors to speculate that the ex-mayor is "losing it" and "doesn't know what he's doing," but for anyone who has paid attention to the wild ups and downs of Giuliani's career, this apparent disregard for veracity and decorum – a style Trump has also become known for – is just more of the same from the man who first employed this strategy to take on the Mafia as a state prosecutor in New York in the 1980s.
The Trump of the 90s
"He was Trump in the 80s and 90s," said John Mollenkopf, a professor of political science at City University of New York's Graduate Center and author of several books on city politics.
Considering Giuliani was mayor at the same time Trump was not only expanding his personal brand in New York but also getting interested in politics, it's not a stretch to imagine that the former's brand of brash braggadocio may have had an influence on the latter.
Take, for example, Giuliani's now infamous employment of broken windows policing – a policy of targeting even minor offenses with harsh punishments, which Giuliani has claimed is responsible for turning New York from one of the most dangerous big cities in the US to one of the safest.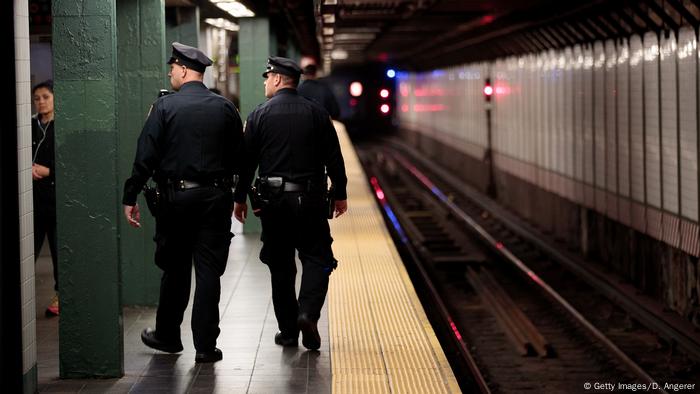 New York City police changed to controversial tactics in the 90s and is now ranked as a safer US city
"The drop in crime under Giuliani's mayoralty was really quite dramatic, as was the reduction in visible homelessness away from mostly white, middle- and upper-class areas. This was due in large part to his attempts at decreasing the influence of black and Latino legislators, as well as changes to policing – which came at a significant price," Mollenkopf said.
"People were arrested straight out rather than getting a summons to appear in court before being convicted," Mollenkopf added. "This gave a substantial amount of minority young men a criminal record, making it harder for them to get a job or accepted to a university."
Echoes of these policies can be seen in Trump's approach to similar crises, such as suggesting at a reach White House summit that the way to deal with the country's opioid crisis was to execute drug dealers.
'America's mayor' accused of rights abuses
Mollenkopf suggested that Giuliani's reputation as "America's mayor," for his steady hand after the terror attacks on September 11, 2001, may have caused some to forget that his legacy in New York was not entirely positive.
"9/11 enabled him to rehabilitate himself politically. And while he should be praised for, as an example, telling New Yorkers not to react to the attacks with Islamophobia, he also used the tragedy to suggest that he should be able to extend his final term in office," said Mollenkopf.
A Quinnipiac poll from February 2001 showed how unpopular Giuliani was before September 11, especially among minority voters amidst allegations of civil rights abuses by City Hall and police misconduct.
The poll found that 64 percent of African-American voters and 52 percent of Hispanic voters said police brutality was a "very serious problem."
In this context, Giuliani, who advised Trump on the so-called "Muslim Ban" and who called the Black Lives Matter movement "inherently racist," begins to look less like the outbursts of a man who has lost touch, but more "in keeping with how he's always been," Mollenkopf said.
Having turned a controversial mayoral term and gigs hosting cable television movie marathons into a seat at Trump's legal table, the next question for Giuliani will be how long he remains there. Two of his predecessors have already stepped down in frustration, and with White House sources telling US media that the president is less than pleased with his performance, Giuliani may be the Trump administration's next casualty.
DW editors send out a selection of the day's hard news and quality feature journalism. You can sign up to receive it directly here.