Mohsen Amiri was deported from Germany to Afghanistan on Thursday, December 15. He told DW that on Thursday, 20 to 30 German police officers transported him and eight other Afghan refugees in a prison bus from a detention center in Paderborn to Frankfurt Airport for a one-way flight to Kabul.
Amiri is part of the first group of deportees out of a proposed 12,000 that are to be sent back to Afghanistan under a recent agreement between the German and Afghan governments.
Amiri said that in 2013 he entered Germany "legally" from Greece within the framework of a family reunification. His mother and siblings have legal immigration status in Germany. He was 19 when he arrived in Germany and had been living with his family in Hamburg.
"I was separated from my mother and my siblings, and after a short conversation with the immigration office, I was taken into custody and sent directly to a deportation center," he said. "Five days later I was deported to Kabul."
Amiri has found temporary accommodation at a "guesthouse" for returning refugees in Kabul.
After trying to build a life in Germany, Amiri is experiencing a cold and unexpected transition. And his story is similar to the thousands of other Afghan refugees being deported from Germany. Separated from his family and without any contacts in Afghanistan, he doesn't know what awaits him.
DW: Why were you deported from Germany back to Afghanistan?
Mohsen Amiri: I entered Germany in 2013 but my first asylum interview was in 2014, and my application was denied and I had no possibility to appeal. After five or six months I was told I would have to leave Germany within one month.
I told the immigration officials that I attended a school and my family was in Germany. They then asked me for a school attendance certificate along with an Afghan passport and identification card. It took six months for me to obtain an Afghan passport, but I couldn't get an identification card from the Afghan embassy.
Eventually, I received a notice that I would have to extend my visa. I showed the officials my Afghan passport and they presented me with a "voluntary return" form and told me I needed to sign it. I told them I wouldn't and that I wasn't ready to return to Afghanistan because my mother was sick and needed care.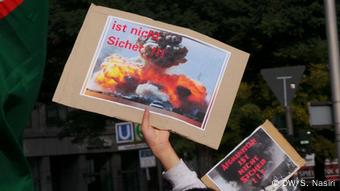 Deportations to Afghanistan are a much-contested issue in Germany
After that, I twice received a visa extension for one month. But then the third extension was only for a week. When I was on my way to extend the visa again, I was arrested by five police officers and taken away.
Have you had any contact with your family since you were deported? Why weren't they deported? How many family members still live in Afghanistan?
They weren't under "temporary residency" status, only I was. My father died and my mother, two brothers and a sister live in Germany. I had contact with them up until Tuesday, when I had hoped that I could prevent my deportation. But since arriving in Kabul, I have had no contact with them. My telephone was taken during transport. I was told that I would get it back at the airport. I wanted to tell my family that I was being deported, but then I was told that I would first get the phone back when we arrived in Kabul.
Temporary status is still a form of residency status. Did this have no effect?
Sure, I had temporary status, and I had even found a traineeship. Before I was deported, I showed officials a certificate from the traineeship and a doctor's note recommending psychiatric treatment, but none of that helped. I was jailed in Paderborn for five days while I tried to find a lawyer. But in the end, I wasn't able to do anything.
You said that you attended school and wanted to start a traineeship. Why were you deported anyway?
I showed all of this to the immigration judge. I told him that my entire family lives in Germany and I have no one in Afghanistan and could not return. I asked the judge, 'why are you sending me back?' He said that the decision for deportation had been made by the 'federal office.' I tried everything, but it made no difference.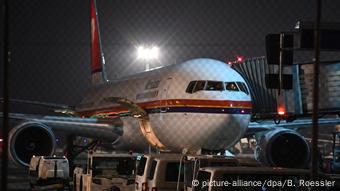 Many people protested the deportations to Afghanistan
Why couldn't you take action against this decision?
I was given little time. I was arrested on Friday, December 12, when I was on the way to the immigration office to extend my visa. I was taken right away to a detention center in Paderborn. Because Saturday and Sunday were not workdays, I could only talk to a lawyer on Monday and Tuesday. There wasn't any time and even though we tried to call almost 10 attorneys, none of them would help. On Wednesday, December 14, I received a deportation notice, on which our "flight" was listed.
According to the agreement between Germany and Afghanistan, every deported Afghan is to receive a small amount of cash as help. Did you also receive this?
No, not at all. I had around 150 euros with me but 100 euros was taken for "travel costs." I was told that the trip back to Afghanistan was not a free ride. I told them that I was informed that each returning refugee was to receive 700 euros in aid. They told me that was only for those who went back voluntarily. So now I only have 62 euros.
Why were you jailed? Did you commit any crimes?
No. On the documents from the immigration office it also says that I have never committed any crimes. I never even rode public transport without a ticket. I went to school for three years and was working on getting into a traineeship.
What are you going to do now that you are back in Afghanistan?
I really don't know what I should do. My family is in Germany and I have nobody here. I will stay for two weeks in this guesthouse that has been set up for deported refugees. But people tell me that you can only be taken care of for 15 days. After that I don't know what is in store for me.
The interview was conducted by Abdul Bari Hakim.