"Fashion always looks the same. You always get that tall, white, skinny, cocky type of model. More than anything, the fashion world values exclusivity. But now, that world is changing," says Peche Di, a model and activist, whose name and face have appeared in glossy magazines, niche fashion publications, and global news outlets over the last few years.

Di, 26, is an immigrant and a trans woman - and, on top of that, one of color. She left Thailand for New York in 2010 to become a model, but she quickly realized that neither of her features was going to play to her advantage.

"I met with representatives of top modeling agencies in New York - IMG, Clique, you name it - but I couldn't find anybody who wanted to represent me," Di depicts the disillusionment she went through.

A model's commitment to inclusive fashion

Her story might have been another case of how fashion treats minorities, but instead of succumbing to victimization, Di started getting jobs on her own.

"The audience loved me when I was modeling on the runway, and I got a great response when people saw me in editorials. So after a while, I realized I wasn't the problem." More importantly, she felt she was the one to solve it.

In 2013, she founded Trans Model, the first model agency focused solely on transgender people (pictured above). "No one believed me when I told them it was the first agency of its kind. Everybody thought it was a great idea, and that it should have been done a long time ago," Di describes the reactions when she unveiled her project. "I wanted to create something inclusive and allow trans people to celebrate and enjoy their beauty. But many fashion people didn't want to accept me or my company."

Ultimately, they didn't have a choice. Di's story was picked by "The New York Times," "The Atlantic," and "Forbes," to name just a few. And the fashion scene quickly realized it had to catch up.

"I was sad that 'Vogue' was the last magazine which decided to publish a story on transgender models," she says.

The hesitant fashion industry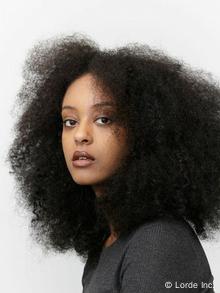 Model Malaya is represented by Nafisa Kaptownwala's agency Lorde
Quite similarly, Nafisa Kaptownwala established her modeling agency Lorde Inc. in 2013 to address the lack of diversity in the fashion industry. The Toronto-based company is now home to more than 60 models, none of which are white.

"I was initially motivated to start the agency because some of my peers from art school were coming up in fashion and weren't including many people of color in their photos," she says.

As a person of non-Caucasian origin, Kaptownwala didn't feel represented by the contemporary fashion, and her feelings are as legitimate today as they were a few years ago. According to the statistics made by The Fashion Spot, only 30.1 percent of all models that appeared on the runways of the New York Fashion Week in September were nonwhite.

"Some designers have gotten better at being more inclusive, but that's still seen as very alternative. The mainstream or conventional fashion is still hesitant to include more than a couple of models of color," says Kaptownwala while looking at the Spring/Summer 2017 season catwalks. "The latest Gucci show had three models of color out of 76 in total. That's deplorable. And then you get designers like Demna Gvasalia at Balenciaga and Vetements who don't feel pressed to include models of color at all."

She gets upset: "Sounds like the 1950s to me."

How fashion reflects the times

In 2015, at least 21 transgender women were killed in North America only, based on a report by Human Rights Campaign, and this year's numbers show no improvement.

A streak of racially motivated murders over the last three years in the US spurred Black Lives Matter, an international movement against violence and systemic racism toward African-Americans.

Across the Atlantic in Europe, the continuous migration crisis and ensuing disdain for the Muslim community resulted in a burkini ban on the beaches of Nice, France. The ban was later overturned by France's highest court.

But designers shouldn't be afraid of putting transgender, nonwhite, or modest models on the runway or casting them for fashion campaigns, argues Henry Ravelo, an American TV producer and manager: "The mainstream thinks such things do not concern them," he says, "but violence against anyone is a problem of the whole society."

"I remember the 80s, when the AIDS broke out; people were giving it all sorts of names like 'the gay disease.' It helped the majority to throw the issue under the rug. Fashion, on the other hand, is a part of our culture we all share. It can keep the problems in everybody's conscious minds."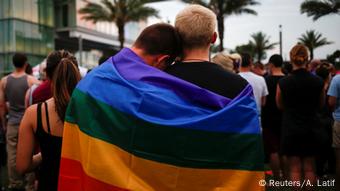 The attack on the Pulse nightclub sparked discourse about gay lifestyles, says Henry Ravelo
He admits he has a very personal reason for being happy that more and more transgender people and drag queens are given space in fashion. "The attack in Pulse hit me hard," he says.

When I ask him further about Pulse, a gay club in Orlando, Florida, in which the deadliest terrorist attack on the US soil since 9/11 took place on June 12, 2016, his voice begins to shake and his eyes get watery.

"I remember the night. I was watching the Tony Awards, and suddenly, they started announcing the names of the casualties. One of those names was a friend of mine," he recalls. "The last thing I want to do is to advocate the atrocious act, but at least it got people talking and made the mainstream acknowledge an issue that was uncomfortable to them. And I appreciate that."

Renowned photographers and Emmy awards

Even though the public interest in the Pulse attack has faded over the time, the conversation seems to continue in fashion.

Today, Di and the models signed to her company are New York fashion week regulars. They appear in editorials of mainstream titles and even star in the campaigns for brands such as Smirnoff or Equinox. World-renowned photographers like Steven Klein reach out to her.

Likewise, Kaptownwala's agency is quickly gaining momentum in the industry as she sources models to high-budget photo shoots in magazines such as "Dazed & Confused" or "i-D" and to fashion weeks all around the world.

Indonesian Muslim designer Anniesa Hasibuan showcased a collection of hijabs during the latest New York Fashion Week to standing ovations from the audience and the social media. Some of the models were recruited from Underwraps Agency, a modeling company established by Muslim fashion designer Nailah Lymus.

"There's definitely something happening in the world of fashion," claims Ravelo. "In September, Oxygen aired the first episodes of Strut, a new reality show produced by Whoopi Goldberg. It presents the lives of the models at Slay, a Los Angeles model management, that represents transgender people," he adds.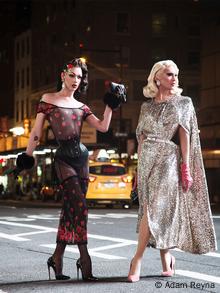 Violet Chachki (right), with Miss Fame at the New York Fashion Week, won the seventh season of the TV show RuPaul's Drag Race
RuPaul Charles, the creator, producer and main star of RuPaul's Drag Race, a reality competition in which drag queens compete for the title of the next American drag superstar, received an Emmy award this year after eight seasons of hosting the show.

One of its former contestants, Kurtis Dam-Mikkelsen or Miss Fame by his stage name, is currently in Paris, attending fashion shows and parties in outfits she receives from designers such as Marc Jacobs or Prada.

"I say this with no ego attached, but when I was growing up, there was no one to look up to for kids like me - those who were different, living in the middle of nowhere, afraid to be true to themselves. I want them to know there's someone like them, someone they can talk to. I want to reach back," says Dam-Mikkelsen.

Who is a model?

Fashion can be a language that speaks to people of any background. It comes as no surprise, then, that it has become a platform for minorities seeking self-expression and recognition - despite the resistance from the fashion industry.

"My aim is to disrupt the fashion system," Di explains. "All my models are trans, but that's not the only reason why they are unique - some of them are plus size, some of them identify as non-gender so they can model both menswear and womenswear."

When she's asked to describe what the word "model" means to her, however, her reply seems to be universal to the new family of models: "It's a person who can wear clothes beautifully. I want to show that any shape, size, height, or even the skin color and a different identity are not limits to anyone's career, as long as they have passion and want to succeed in the business."