The five permanent members of the UN Security Council and Germany agreed on Friday, Sept. 28 to delay a vote on tougher sanctions on Iran until late November at the earliest.
The result is a temporary setback for the US and France, which had sought to pile up economic and political pressure on Tehran over its refusal to halt uranium enrichment which the West suspects is aimed at developing nuclear weapons.
But, the move is expected to be welcomed by Germany, Iran's biggest European trading partner, which has long insisted that any further sanctions must within the UN framework.
Before the meeting, German Foreign Minister Frank-Walter Steinmeier said it was critical that the international community remain united in dealing with Iran.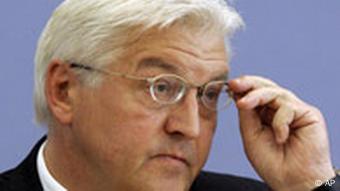 Steinmeier said the international community needed to keep working together
"I believe that what impresses Iran the most is the unity of the six. Iran's strategy is to split the six but it hasn't succeeded so far," Steinmeier said.
He added, however, that sanctions couldn't be ruled out.
"We can't exclude sanctions in the longer term in the quest for a diplomatic and political solution. It depends on Iran itself," he said.
In her first speech in front of the UN General Assembly this week, German Chancellor Angela Merkel called for the international community to take a hard line against Iran over its nuclear program.
German business interests
Many German politicians, however, believe that imposing economic sanctions against Tehran would be ineffective and hurt German companies' extensive trade ties with Iran.


Instead of punishing companies that do business with Iran, negotiations should focus take advantage of the standing economic ties, EU Parliamentarian Daniel Caspary, a member of Merkel's Christian Democratic Union, told Deutsche Welle.

"I think we need to use our good economic relationships to stay in contact with the people, business people and politicians in Iran and to talk about the situation," he said.
"I am of the opinion that countries like the US or France are pushing Germany to limit its economic ties. We should not accept that."

Germany, in fact, does more business with Iran than any other European country, with annual German-Iranian trade volume estimated to be about 5 billion euros ($7.1 billion).
At least 1,700 German companies are active in Iran, including household names like Siemens and BASF which have been in the country for decades. Some 75 percent of all small and mid-size companies in Iran are outfitted with German technology.
Growing political pressure
But, as international pressure grows to isolate Iran, Germany has been forced in recent months to scale back its economic interests in Iran.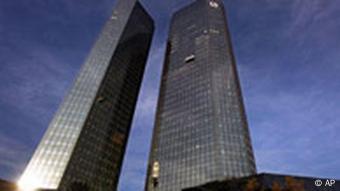 Under pressure from the US, Deutsche Bank stopped doing business in Iran
Germany's three main commercial banks, which include the powerful Commerzbank and Deutsche Bank, have recently closed their doors in Iran.
Their official reasons remained the costly bureaucracy of doing business there, but experts have said political pressure from the United States, which has pushed for strict sanctions to be enacted, was behind their decision.
Germany's Economics Ministry has also rolled back the export credit guarantees it issues for trade with Iran from $3.3 billion in 2004 to $1.2 billion last year. Trade in the last seven months has dropped by more than 15 percent.


Chancellor Merkel has also spoken out against German firms bidding for a contract to build a magnetic elevated rail system in Iran.


Business keeps dialog open


But, Mechtild Rothe, vice president of the European Parliament, said that relations with Iran have not reached a point where economic interests should need to suffer.

"I think it is important that the European Union keep up relations with majority of countries in the world, including Iran," she said. "I think it would be much better to negotiate -- to speak with each other."

Closing the doors of business would also close other paths of communication, said Erika Mann, a Social Democratic member of European Parliament.

"Economic ties are responsible for the livelihood of so many people," she said.
"So many jobs are dependent on solid economic ties and so much dialog and cooperation develops between people though the economy."