Air Force General Shen Yi-ming, who was Taiwan's chief of general staff, was killed after a helicopter carrying 13 people crash-landed on a mountain on Thursday, according to the defense ministry.
Taiwan's official Central News Agency also confirmed General Shen's death.
"Eight of our colleagues were killed," a military spokesman told a news conference. Five of the people in the crash, including a military reporter, were rescued and sent to hospitals.
The helicopter made an emergency landing in the mountains near Taipei after taking off on a routine mission to visit soldiers in the northeast Yilan country ahead of the lunar new year.
The incident comes a week before Taiwan holds presidential and parliamentary elections on January 11.
President Tsai Ing-wen, who is seeking re-election, cancelled all campaign activities until Saturday, promising a swift rescue operation.
"We must find out the reason for the incident," President Tsai told reporters in the northeastern county of Yilan. "Most importantly, (we) must ensure the stability of our military and national defense," she added.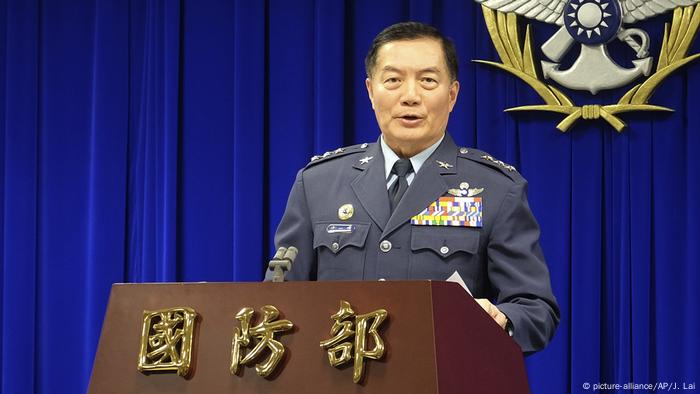 General Shen Yi-ming, 63, was responsible for overseeing Taiwan's defense against China
Rescue operation underway
Air force commander-in-chief Hsiung Hou-chi told a news conference in Taipei that it remains uncertain what caused the incident.
"The search and rescue operation continues... We are investigating whether (the cause) was environmental or mechanical... the aircraft's condition is not ideal," Hsiung told reporters.
"We hope everyone can be safe and we should know the results this afternoon," he added.
In a film released by a rescue team and published by Asia's Central News Agency, one survivor from the crash site said a number of people were still trapped inside wreck.
"I can still walk ... Two others near this side have stopped breathing," Air Force Major General Tsao Chin-pin said in the film.
Taiwan has been a de facto sovereign nation since the end of the Chinese Civil War in 1949. China claims Taiwan as part of its territory and has threatened the use of force to bring the country back under its control.
Read more: Can Taiwan counter China's 'diplomatic aggression'?
Each evening at 1830 UTC, DW's editors send out a selection of the day's hard news and quality feature journalism. You can sign up to receive it directly here.
mvb, shs, ed/aw (AFP, Reuters, dpa, AP)