Scores of people waving rainbow flags and balloons joined the massive pride parade that snaked through Warsaw's downtown on Saturday. The march began outside the capital's Palace of Culture and Science, where protesters gathered to call for the legalization of same-sex marriage and equal adoption rights for sexual minorities.
Terry Reintke, a Green Party member who represents Germany in the European Parliament, said she travelled to Warsaw to take part in the march.
"I am here to show that the fight for equal rights is a European battle," she said.
Gay rights marches were still banned in Poland when the country joined the European Union in 2004. Since then, acceptance of gay men, lesbians and transgender people has grown, albeit slowly, in the predominantly Catholic country.
The pride march - now an annual event in Warsaw - often attracts homophobic protesters as well. During Saturday's event a group of right-wing extremists gathered in the old town amid a strong police presence, but no violent incidents were reported.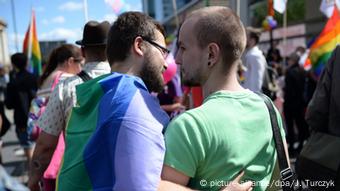 Protesters embrace at Warsaw's annual Gay Pride parade
No sign of change
Five years ago, former Prime Minister Donald Tusk pledged to introduce a gay partnership law in Poland, but strong opposition in parliament meant the legislation was never passed.
Resistance to gay marriage is strong - opinion polls have repeatedly shown Poland to have one of the lowest levels of acceptance of gay people in the EU. And with the election of the right-wing Law and Justice party in November, activists have warned that the country is becoming more conservative.
Ahead of Saturday's march, more than 100 prominent gay and lesbian Poles released a statement calling for those still concealing their sexuality to come out. "Rights cannot be given to those who hide their faces. We ask you: Come out!" the statement said.
Among the signatories were Robert Biedron, the mayor of Slupsk who was for a long time the only openly gay politician in Poland, and Anna Grodzka, a transgender woman and former member of parliament.
nm/bk (dpa, AFP)