Presumed Nazi war criminal Samuel Kunz passed away before he could be brought to trial. There were no details released on the cause of death.
In July, Kunz was indicted by a German court of actually killing 10 people himself and helping murder some 430,000 during his time as a trainee and guard at the SS Trawniki and Belzec death camps. He was at those camps from January 1942 through July 1943. Both were located in then-occupied Poland.
Involved in the whole camp process
In the indictment, prosecutors said Kunz was involved in the entire process of killing Jews, from taking victims from trains to pushing them into gas chambers to throwing corpses into mass graves.
The 89-year-old Kunz died shortly before his trial, which was set to begin at the Bonn district court in early 2011. The case has been discontinued.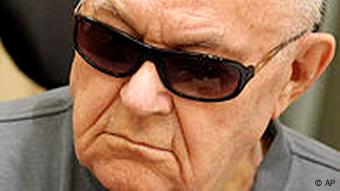 The case of John Demjanjuk is a high-profile one
"Samuel Kunz died on November 18 at 5:30 p.m., most likely at his home" in Germany, prosecutor Andreas Brendel, head of the central Nazi war crimes investigation unit, told AFP. "We have the death certificate."
Change in Nazi-hunting policy
Kunz was third on the Wiesenthal Center's most-wanted list of Nazi war criminals. He lived near Bonn, and was employed up until his retirement as a handyman in the Federal Ministry of Building and Urban Development.
The ex-guard had long been ignored by the German justice system, since until recently authorities showed little interest in going after relatively low-ranking camp guards. In what Nazi hunters say is a welcome change in policy, the past 10 years has seen a revival in interest in pursuing all those suspected in Holocaust involvement, regardless of rank.
The case against Kunz came about after he was investigated in connection with the accused Nazi war criminal John Demjanjuk, in Munich.
Efraim Zuroff, the Wiesenthal Center's top Nazi hunter, told AFP he found it "incredibly frustrating" that Kunz died before trial. But he added it was important that he had been indicted at all. "At least a small measure of justice was achieved," Zuroff said.
Author: Jennifer Abramsohn (AFP, dpa)
Editor: Nancy Isenson