The Poles have developed a soft spot for German Chancellor Angela Merkel. The reason: According to the largest Polish daily "Gazeta Wyborcza," her grandfather Ludwig Kazmierczak was Polish and is believed to have fought against the Germans as a Polish soldier in 1918.
At the time of the First World War, Poland had been divided and occupied by Germany, Russia, and Austria, and lost its statehood for 123 years. Merkel's grandfather fought to put Poland back on the map.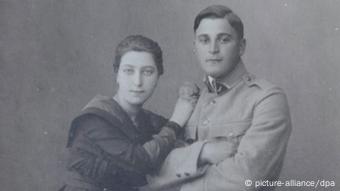 Angela Merkel's grandparents Margareta and Ludwig Kazmierczak
The Poles are very interested in the ancestry of politicians. But discoveries are not always taken as positively as with Angela Merkel. Eight years ago, Polish media found out that the grandfather of Prime Minister Donald Tusk briefly served in the Wehrmacht, the Nazi-era German army.
Although he was drafted against his will, the discovery cast Tusk in a bad light, and he lost the battle for the presidency to his rival Lech Kaczynski. In Germany, however, dealing with politicians' ancestry is more relaxed. Merkel publicly asked Tusk how to properly pronounce her grandfather's name.
Ancient family history
Merkel's grandfather came from Poznan. Polish media found a cousin of the chancellor, retired accountant Zygmunt Rychlicki. He knew that he had distant relatives in Germany. But he had no idea that one of them was the German chancellor.
It was only in mid-March, when the media reported Merkel's Polish roots, that he heard her maiden name "Kasner" and put together the pieces of the puzzle. He has since found a letter from Merkel's father Horst Kasner and some family photos in which Merkel's grandfather can be seen.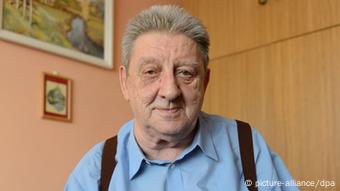 Zygmunt Rychlicki is a cousin of Merkel's late father
These images caused a stir in Poland, because they show the chancellor's grandfather in an elegant bright uniform. For Polish historians, this made it clear that Kazmierczak was a soldier in the Polish army, which fought in World War I on the side of France against Germany.
The photo is said to have been taken in the spring of 1919 in Poznan, shortly after Poland won back its independence. Ludwig Kazmierczak had just returned from northern France, where he fought in Champagne against German troops. He took his German-born fiancée Margarethe with him to Poznan. They later emigrated to Berlin and changed their surname from "Kazmierczak" to "Kasner."
Scent of a poppy seed roll
Merkel's cousin Rychlicki still remembers the chancellor's grandfather well. Even after emigrating, the Kasners stayed in touch with the Polish side of the family. Ludwig and Margarethe visited the family in Poznan in the 1930s, and there were reciprocal visits in Berlin. Despite the name change, Rychlicki said Merkel's grandfather stayed true to his Polish roots.
Rychlicki connects a very vivid memory to the year 1943. At that time his mother died, and Ludwig traveled to Poznan for the funeral. Rychlicki was a child.
"I remember that Ludwig Kasner did not come in a German uniform but in civilian clothes. It was war, but he acted like one of us." Rychlicki said that the guest first went into a bakery and bought poppy seed rolls for everyone.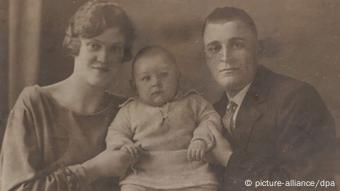 Angela Merkel's grandparents with her father Horst
"For us Poles, such goods were out of reach at the time," he said. But as a German, Ludwig Kasner was able to buy them. Even today Rychlicki can remember the wonderful aroma of poppy seed rolls.
Unknown relatives
Later there was correspondence with Horst Kasner, the son of Ludwig and father of Angela Merkel. "He wrote us from Templin and also talked about his children," Rychlicki said - including his daughter Angela, who was studying chemistry.
But Rychlicki realized that "this" Angela was now the most powerful woman in the world only after the media reports.
No matter how loose the family connections are today, Zygmunt Rychlicki and his wife Denise feel honored by the unexpected relationship with the chancellor.
Nevertheless, they said they did not plan to contact her, because she had many important things to do. But if Angela Merkel or her brother or sister should visit the Rychlickis, they would be welcome.