The parliamentary constituency of Hampstead and Kilburn spans a fairly wide area of north-west London, encompassing leafy, affluent streets and more built up areas of tower blocks and social housing. On these streets, the battle for the general election is heating up.
There are 650 constituencies in the UK, but the election campaign is focused on a handful of marginal seats - those with small majorities that are most likely to change hands. Under Britain's first-past-the-post political system, it is not just national vote share that matters but the number of seats each party wins - so political parties tend to focus their resources on the seats they think they can gain, rather than those guaranteed to go to one party or another.
Hampstead and Kilburn is one of the most marginal constituencies in the UK. In 2010, the Labour candidate Glenda Jackson won a majority of just 42 votes. The third placed candidate got only 841 fewer votes than the winner - around 1 percent of the electorate. In the 2015 election, Jackson stood down and the boundaries of the constituency were slightly redrawn. Her successor as Labour candidate, Tulip Siddiq, retained the seat with an increased share of the vote. But it was still the 10th most marginal national result; for all three parties, this remains an area where there is all to play for.
"I feel I'm drowning in leaflets from the different parties, and I've had representatives from all of them knock on my door," says Kilburn resident Emma Harlow. "It's funny as I used to live in a really safe Labour seat in another part of London, and you barely knew an election was going on. It makes me doubt our electoral system as it feels my vote didn't really count before," she told DW.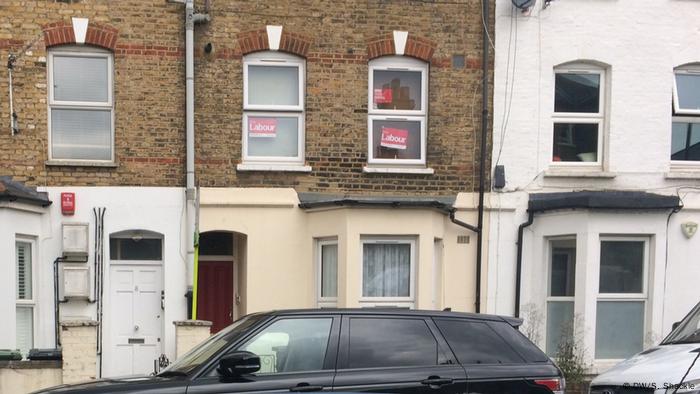 Hampstead and Kilburn is one of the most marginal seats and an area where there is all to play for
National campaign
The promotional material distributed in this area aptly demonstrates the national strategies being taken by the main political parties. The Conservative Party's leaflets, distributed from their office in Hampstead, portray the election as if it was an American-style presidential contest. The flyers highlight the clash between Prime Minister Theresa May and Labour leader Jeremy Corbyn, reflecting the Conservative Party's national strategy to capitalize on the personal popularity of their leader - and the unpopularity of Corbyn.
Read more: May avoids debate as Labour cuts Tory lead
Claire-Louise Leyland, currently a local councilor, is the Conservative Party's candidate in Hampstead and Kilburn. Until attention was drawn to it in the national press in May, her Facebook page described her as "Theresa May's local candidate for Hampstead and Kilburn in the general election," rather than as the Conservative candidate. Her Twitter profile features a large picture of Leyland and May together.
"Even though it's a close race in this area, the Conservatives haven't actually won since 1992, and I don't think calling themselves 'Theresa's Team' or whatever it is will change that," says Ian Jenkins, who has lived in West Hampstead for many years. "We're broadly a Remain supporting area and I don't think that Theresa May's hard Brexit stuff will play well here."
Read more: Theresa May's cult of personality
The Liberal Democrats' candidate, Kirsty Allan, is pushing her party's anti-Brexit line. Although pollsters predict this strategy will not be successful in the country at large, there's a chance it could strike a chord in Hampstead and Kilburn, as 75 percent of residents voted to remain in the EU.
Airbrushing out
Two miles away from the Conservative office, at the Labour headquarters in Kilburn, the leaflets are a drastic contrast. Corbyn, who despite a recent surge in the polls for Labour still has poor personal popularity ratings, is hardly mentioned at all in the promotional literature. Siddiq nominated Corbyn for the leadership (though she went on to vote for Andy Burnham), but the photographs on the leaflets depict her alone, and emphasize her record fighting for local people.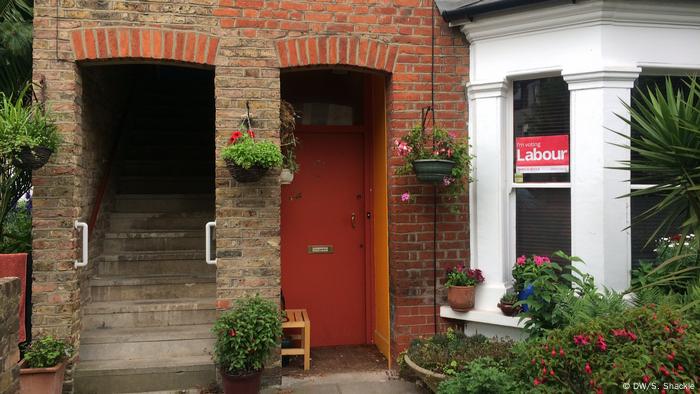 If the signs on people's windows are anything to go by then Labour is leading the race
Although Hampstead and Kilburn is not far from Corbyn's own Islington constituency, many local campaigners are barely mentioning him as they canvass. "Our general approach is not to mention Corbyn personally unless someone brings it up, just because it's an unknown quantity how people will respond," said Frank, a local canvasser who asked to be identified only by his first name due to ongoing work with the Labour Party. "The manifesto policies are popular and we have a great record in the area so we are focusing on that."
Read more: UK's Labour shedding traditional voters
If political party signs in people's windows around the area are anything to go by, things are going well for Labour. Placards in the party's red and yellow calling for people to re-elect Siddiq proliferate in the streets behind bustling, multicultural Kilburn High Road, punctuated by the occasional orange sign supporting the Liberal Democrats. There is not a Conservative window sign in sight. But the energy of campaigning in Hampstead and Kilburn shows that, with a few days left before the vote, there is still everything to play for.