It is officially the fourth deadliest mass shooting at a public school in the United States. The Santa Fe shooting was also the 21st incident involving a gun at a school in 2018.

Ten people were killedTen dead in Texas high school shootingand 13 others were treated at hospitals for injuries related to the shooting.
People in the town of Santa Fe, Texas, which is about 40 miles southeast of Houston, were trying to cope with their sense of loss on Saturday.
On Friday, 17-year old Dimitrios Pagourtzis, a student at Santa Fe High School opened fire and took the lives of 10 people. The shooting took place in an art room Friday morning on the roughly 1,400-student campus.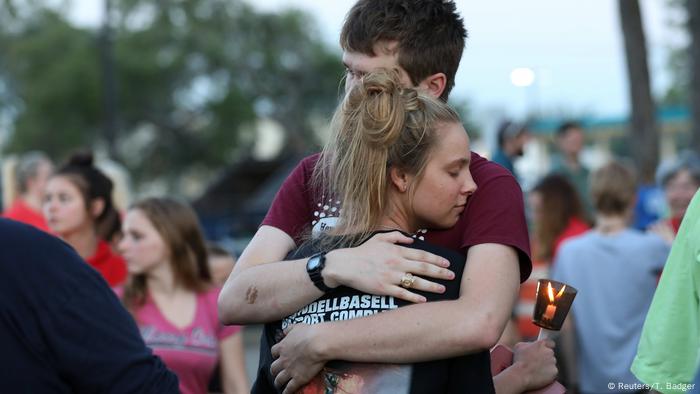 The fourth deadliest mass shooting in a US school
In their first statement since the massacre, Pagourtzis' family said on Saturday that the bloodshed "seems incompatible with the boy we love."
"We are as shocked and confused as anyone else by these events," said the statement, which offered prayers and condolences to the victims. Relatives said they remained "mostly in the dark about the specifics" of the attack and shared "the public's hunger for answers."
Reactions and responses
Houston Police Chief Art Acevedo said on Facebook that he was not ashamed to admit he shed tears of sadness, pain and anger after the shooting. His feelings about gun control "hit rock bottom," he said, asking people not to reply by saying guns aren't the problem and little can be done.
"This isn't a time for prayers, and study and inaction, it's a time for prayers, action and the asking of God's forgiveness for our inaction," he said.
He also complained about elected officials who made solemn statements, asked for prayers "and will once again do absolutely nothing."
At Santa Fe high school, a baseball team player who was wounded in the shooting attended the school's playoff game Saturday. Team member Rome Shubert had a bandage on his neck and was still wearing his hospital bracelet at the game. He was dressed in a team jersey but in shorts rather than a uniform.
Most members of the Santa Fe team had crosses painted on their face and initials of shooting victims written on tape around their wrists. Some members of the opposing team, Kingwood Park, had "Pray for SF" written on tape around their wrists. Members of both teams gathered on the field, arm-in-arm, and said a prayer before the game.
US President Donald Trump and other politicians have in the past promised better protection for schools and ways to prevent mentally ill people from obtaining weapons.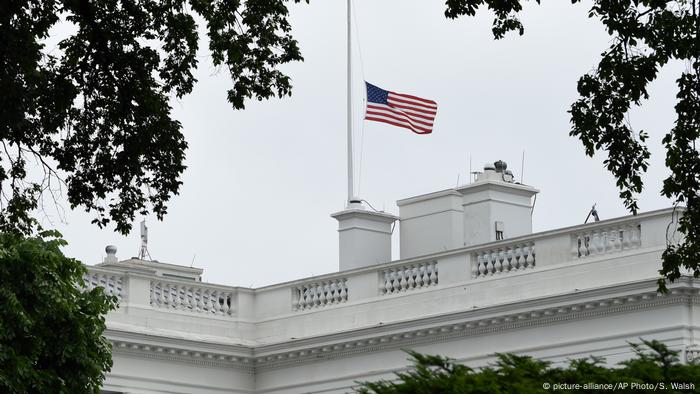 The White house mourns the victims of the Santa Fe shooting
While some US states have tightened their gun laws, most of the ideas proposed in the wake of recent school shootings have failed on the national level. The right to own firearms is enshrined in the US Constitution. According to the Gun Violence Archive, there have been 101 shootings each involving at least four victims so far in 2018, an average of just over five per week this year.
It was only last month thatTrump spoke at an NRA convention telling members their gun ownership rights are "under siege" and pledging to protect them as long as he's president. Trump has proposed adding armed personnel to school employees and floated the idea of allowing some teachers to carry firearms in schools.
Court appearance
Nicholas Poehl, one of two lawyers hired by the suspect's parents, told Reuters news agency he had spent a total of one hour with Pagourtzis on Friday night and Saturday morning.
"He's very emotional and weirdly nonemotional," the attorney said when asked to describe his client's state of mind. "There are aspects of it he understands and there are aspects he doesn't understand."
Pagourtzis waived his right to remain silent and made a statement to authorities admitting to the shooting, according to an affidavit.
Asked if Pagourtzis had provided authorities with information about the shootings, Poehl said, "Honestly because of his emotional state, I don't have a lot on that."
All schools in the Santa Fe school district will remain closed on Monday and Tuesday according to officials.
av/sms (AP, Reuters, AFP)
Each evening at 1830 UTC, DW's editors send out a selection of the day's hard news and quality feature journalism. You can sign up to receive it directly here.