Taiwan's President Tsai Ing-wen called on Monday for China to resume diplomatic talks with the self-ruling island, but said she would not "bow to pressure" over the issue of sovereignty.
Relations with Beijing have hit an impasse in the five months since Tsai's China-skeptic Democratic Progressive Party (DPP) took office in May. Tsai's rejection of the "one China" concept, which recognizes Taiwan has part of China's territory, has prompted the Chinese government to halt communications with the island.
In a speech marking Taiwan's National Day, Tsai urged both governments to "set aside the baggage of history and engage in positive dialogue."
"The two sides of the strait should sit down and talk as soon as possible," she said. "Anything can be included for discussion, as long as it is conducive to the development of cross-strait peace and the welfare of people on both sides."
However, she said that Taiwan "will not bow to pressure," stopping short of conceding the key principle demanded by China for talks to resume: recognition that Taiwan is part of its territory – what the two countries refer to as the "1992 consensus".
The consensus acknowledges that Taiwan is part of a single China, but allows both entities to interpret who is the ruler.
Beijing has claimed sovereignty over Taiwan since 1949, and has repeatedly signaled that it would oppose any steps towards Taiwanese independence.
"No force, no person should underestimate the steadfast determination of the 1.3 billion people of the (Chinese) mainland," a spokesman for the Chinese government's Taiwan Affairs Office was quoted as saying last week.
Tsai hit back on Monday, saying that China should "face up to the reality" of the Taiwanese government's existence and of the island's democracy.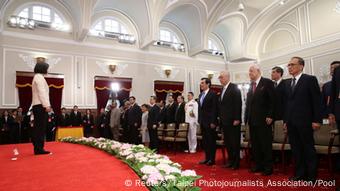 Colder relations
China and Taiwan had enjoyed sound relations ahead of Tsai's election. Her predecessor, Ma Ying-jeou, embraced Beijing's formulation the island is part of a single China. For years, the Chinese government had used economic inducements to convince the Taiwanese that political unification was in their best interests.
However, in May Tsai's DPP stormed to a landslide victory over the China-friendly Kuomintang party on a platform of maintaining the island's quasi-sovereign status.
Taiwan's first-ever female president has accused Beijing of pressuring countries to deport Taiwanese fraud suspects to China, rather than their home territory. Her party has also blamed China for blocking it from attending major international events. The island currently only enjoys diplomatic relations with 22 countries due to China's interference.
dm/kl (AP, dpa)