Ma would offer Chinese New Year wishes to some 200 Itu Aba residents, mostly coastguard and environmental scholars, his office said on Thursday.
"This is an exercise in national sovereignty, full of legitimacy and necessity," according to the Taiwan's foreign ministry.
The one-day trip is Ma's first visit to the islands since he was elected president eight years ago.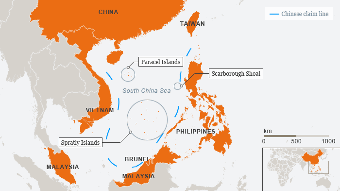 During his time in office, his Nationalist party cultivated closer ties with China, which considers Taiwan to be one of its provinces.
However, Ma is set to step down in May, after the Nationalists lost presidential and legislative elections to the independence-leaning Democratic Progressive Party.
Man-made islands overshadow Itu Aba
The US, Taipei's most powerful ally, said that Washington was disappointed by Ma's move. His visit to Itu Aba was "extremely unhelpful" and could exacerbate tensions in the key region, according to the officials.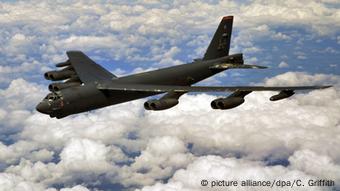 The US flew two B-52 bombers near Spratly Islands in November
Itu Aba, also known as Taiping, is the largest naturally occurring island in the disputed Spratly group. The islands are also claimed by China, Vietnam, Malaysia and the Philippines, and Beijing has created man-made footholds in the area that eclipse Itu Aba in size.
Taiwan has just finished a lighthouse and added a $100 million (92 million euros) upgrade to Itu Aba port.
China unfazed by Taiwan's move
On Thursday, Vietnam's top official in Taiwan said Hanoi "resolutely opposes" Ma's visit to the South China Sea region. Beijing, however, offered a restrained response, saying that Taiwanese and Chinese citizens have a "shared duty" to protect Chinese sovereignty in the area.
China has appeared unperturbed by Taiwan's build-up on Itu Aba. Military strategists believe the restraint is due to Beijing's belief that it would reincorporate Taiwan one day, which would also put China in charge of Itu Aba.
dj/jil (AP, Reuters, AFP)