For the moment, Geneva, Switzerland and Homs, Syria couldn't be more different: There's the peaceful Swiss retreat for the wealthy on the one hand, and on the other, the destroyed Syrian rebel stronghold whose citizens have been defying the siege of government troops for months and continue to fight for their survival.
The two places are joined in the hope that the second round of talks between the Syrian government and opposition forces will be successful, with Homs regarded as a testing ground for both parties to show their ability and willingness to negotiate a fresh political start. However, violence over the weekend disrupting aid deliveries proved once again that they didn't manage to find a compromise - even when it comes to humanitarian aid.
Low expectations
In January, the first round of talks between Syrian opposition and government delegates failed to yield results. The mere fact that talks were held was hailed as a success.
It could have been much worse, says Middle East expert Mohammad-Mahmoud Ould Mohamedou of the Geneva Center for Security Policy (GCSP).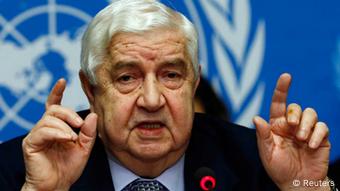 Syria's Foreign Minister Walid al-Moualem represents the government of Bashar al-Assad in talks in Geneva
"Common ground for negotiations in Geneva was very small," Mohamedou told DW. "On the one hand, there's a party who wants to get rid of the government and who has come to Geneva to strengthen its own position and - as its supporters put it - to get rid of [Bashar al-] Assad. On the other hand, there's a regime which doesn't even want to start this discussion." The visiting professor at Geneva's Graduate Institute of International and Development Studies was formerly the foreign minister of Mauritania.
A transitional government?
According to many observers, the first round of talks brought specific results in terms of both parties agreeing to adhere to a June 2012 Geneva Communiqué. This agreement foresees an end to violence in Syria, a truce and the installation of a transitional government.
However, while the Syrian opposition in Geneva wants to start negotiating the set-up of a transitional government, Syria's government delegates want to go through the communiqué point by point, starting with the issue of violence. Assad's representatives in Geneva are likely going to make use of the opportunity to denounce all opposition representatives as terrorists and add fuel to fears of foreign jihadists. If they had their way, they would hinder the implementation of a transitional government and discuss the issue at a much later point.
"The regime will delay and delay and delay discussions of that element," says Mohamedou. "I fundamentally believe that they are in a waiting game to see how much they can achieve [in negotiations]. They will change the context every step of the way to shrink the space of that component…. But fundamentally it's not going to go away - at some point there will be a discussion of this."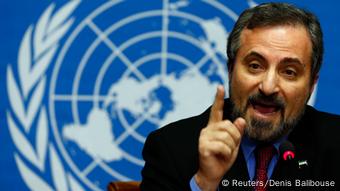 Louay Safi is the spokesperson of the Syrian Opposition Delegation
According to Mohamedou, the opposition's focus on discussing a transitional provision is the right strategy. After all, the uprising against Assad was rooted in peaceful political protests that began in March of 2011 in the southern city of Daraa.
"We shouldn't lose sight of how this began - which was a pacifist opposition to authoritarianism," he says. "This is what it needs to come back to - a democratic transition process, which is possible."
Great risk of failed talks
This time around, though, there's a much higher risk for talks to fail as the two parties are supposed to shift from more symbolic to content-related discussions. These talks are one of the most difficult international negotiations of the past decades, says Mohamedou. They could drag on for weeks, if not months.
The rebel stronghold of Homs is a showcase for just how difficult it is to achieve even the smallest success - and that would be simply the tip of the iceberg, says Jens Laerke, spokesperson for the United Nations Office for the Coordination of Humanitarian Affairs (OCHA).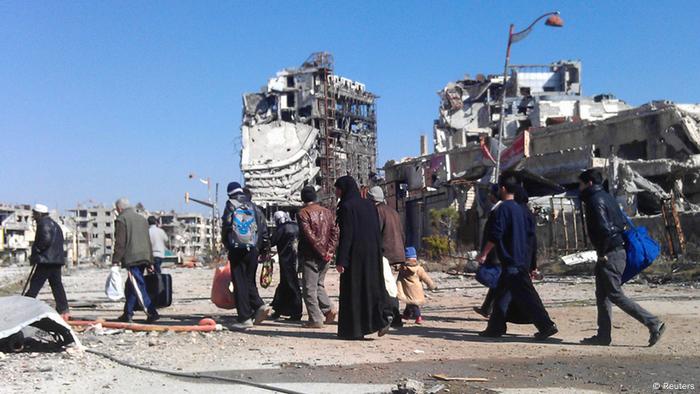 Civilians carry their belongings as they are evacuated from a besieged area of Homs
"There are almost a quarter of a million people in Syria who live in besieged areas. That means they essentially have no access to humanitarian aid at all. We don't have access to them and they can't leave those areas," he said.
According to international law, the Syrian government is obligated to provide access for humanitarian aid to all civilians in the country. De facto, Damascus isn't complying. Even if the UN doesn't make this a subject of discussion, the Syrian government is under suspicion that it is cutting off humanitarian access as a weapon of war and blocking aid deliveries to rebel-held areas.
If UN aid organizations were to openly criticize the Syrian government, they would risk even more aid constrictions. That's why they continue making appeals instead of openly voicing criticism.
"It is absolutely imperative that we get access to the 9.3 million people in Syria who need aid. We need access to all of them," Laerke says. "We have access to some of them, but we estimate that more than three million people are in hard-to-reach areas."