Relatives stood silently in front an altar honoring four children killed by a mortar attack near the Old City of Damascus. The Armenian Orthodox children had been waiting for their school bus when a rebel attack killed them and the bus driver.
One relative, Amira Hana, cries as she describes the explosion.
"We went running to the school to find out what took place," she says. "All the buses were destroyed, completely destroyed. Blood was all over the ground."
Anti-government rebels regularly fire mortars and rockets into Damascus. Sometimes they hit military targets. At other times they seem to target Christian neighborhoods, which are perceived as pro-government.
Bishop Armash Nalbandian, a leader of the Armenian Orthodox church, criticizes the rebels who intentionally target civilian areas.
"I can't understand what kind of vision, what kind of ideology they have," he says. "I do know that they don't pursue freedom or democracy as they say. They are actually criminals."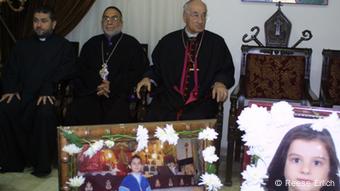 The deaths of four children in a mortar attack has shaken Christians in Damascus
He says indiscriminate attacks on civilians are a war crime. "What they are doing isn't against the government. It's against humanity. I'm speechless."
Neighborhoods targeted
Human rights groups say the government also indiscriminately shells rebel-held neighborhoods. All of Damascus reverberates with the sounds of Syrian army artillery fire and high-power rifle shots. The army wantonly attacks rebel held areas full of civilians, according to critics.
In recent weeks, the government claimed important military victories near Damascus, Homs, Aleppo and other major cities.
Syria's Minister of Justice Najm al Ahmad says the government is winning the war, with major cities nearly all back in the government camp after more than a year of being under rebel control.
He says the government has taken back several Damascus suburbs but admits rocket and mortar fire continue to hit the capital.
"In some pockets in rural Damascus, there are some bombardments," he says. "They focus on the areas of the Christian minority. The Syrian army is achieving good progress in all areas of the country."
Exodus of refugees
An estimated 3 million Syrians have left the country, including tens of thousands of Christians. For Bishop Nalbandian, who is of Armenian ancestry, the refugee upsurge reflects a personal tragedy. Armenians fled Turkey to Syria in 1915 after a genocidal attack by the Ottoman Turkish Army. He says Armenians came as refugees to Syria, where they created schools, churches and a new life.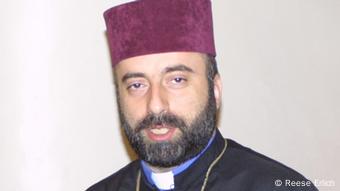 Bishop Armash Nalbandian said his community felt safe under Assad's rule
"After 95 years we are suffering a new genocide," he said. "It's more difficult for us to carry this cross."
When the Syrian uprising began in 2011, many Christians felt caught between a repressive government and fear of Islamic extremist rebels who see Christians as infidels. The UN rights chief recently announced evidence linking the Syrian regime to war crimes. Bishop Nalbandian says in the first few months, Christians hoped the government would make significant reforms.
"Unfortunately, the government lost this moment, or couldn't or didn't use this moment," he explains. "The government did some reforms according to the constitution, but actually it's not enough."
The government lifted the formal state of emergency, for example, but continues repressive policies. Christians were also offended that the country's constitution mandates that the president be a Muslim.
Persecution prevails
During the past year, extremist Muslim groups gained ground among the rebels. They targeted Christian villages and other religious groups that were perceived as Assad supporters. Extremists and criminal elements kidnapped Christians for ransom.
As the extremist groups took over more areas and chaos ensued, Christians threw their support behind the government. Nalbandian says many Christians now see Syrian President Bashar al Assad as a protector.
"The guarantee of security of minorities, my church, is to have good functional government, a strong government," he says. "This security we experienced and saw with the government of President Bashar al-Assad."
The killing of innocent children and the refugee exodus has taken a psychological toll on Syrian Christians - and on the personal faith of Bishop Nalbandian. He experienced a deep psychological shock from the death of the four children from his church.
"I don't know if I'm sad, if I'm tired, if I'm exhausted, I don't know," he says. "I gain my power, energy from prayer. How, I don't know. Why I don't know. But I have this strength."
Bishop Nalbandian says he and other Christians will survive as they have many crises before.