The government has been removing subsidies on electricity, water and fuel and this month a blanket bread subsidy for all people living in Jordan will be lifted, leaving Syrian refugees with another cost to bear.
Figures released last week by the Jordanian Finance Ministry showed public debt had increased by JOD1.05 billion ($1.5 billion) or 6.3 per cent during the first seven months of this year.
By the end of July 2013, the total debt reached JOD17.6 billion, equating to 73.5 per cent of the estimated gross domestic product for 2013.
Last year Jordan received an emergency IMF loan of $2 billion on the condition they scrap fuel subsidies to trim an annual $2.3 billion expenditure.
A 50 percent rise in fuel tax sparked protest in tribal communities in Jordan last winter as the price of gas for cooking and heating rose from JOD6.5 to JOD10 per cylinder.
The government has said it will introduce a smart card to target the subsidy to Jordanians with the aim of ultimately providing it to just the poorest Jordanians. In addition bread has also been subsidised by the Jordanian Dina, and, as experts warn, there is a dangerous precedent for such a move.
Echoing Egypt
"This is something I am monitoring pretty closely, because as you know bread subsidy reform was the beginning of the downfall and the problems in Egypt," said Jonathan Campbell, who heads and World Food Programme's emergency response for Syrian refugees in Jordan.
The first words chanted in the revolution in Egypt were "bread, dignity, freedom" and the worry is that the growing cost of living in Jordan could push the country in a similar direction.
"It's a difficult time to lift bread subsidies when there's already tensions. The problem is that it was all done before the Syrian refugee crisis, the plans were in motion. It's actually got nothing to do with the Syrian refugees, but perception is likely to link it to the refugees," said Campbell.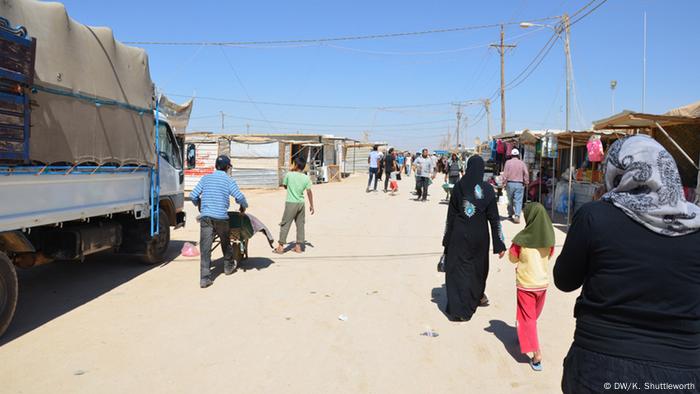 Zaatari camp is already close to bursting and nerves are beginning to fray as the refugees and locals clash
Zaatari refugee camp near Jordan's northern border with Syria has become the elephant in the room that everybody talks about. Up to 140,000 Syrian refugees live in camp Zaatari but over 400,000 live in towns and cities across Jordan.
"I really believe it's only going to get tougher because the number of people coming in will increase. What does this mean for Jordan - you've got half a million people that have come in against a population of six million, that is very largely Palestinian; the ethnic Jordanians are fairly limited in that population and that obviously has huge consequences," said Campbell.
Life in Mafraq
Mafraq is around 80 kilometers (50 miles) north of Amman and is the closest city to camp Zaatari and the population there has bulged.
"Mafraq city is a different city than it used to be - the Syrians outnumber the Jordanians," said the Director General of Al Quds Center for Political Studies, Oraib Al-Rantawi.
"Many internationals suggest we will need to adapt to living with refugees issues for 10 years to come - this is a challenge for the Jordanians."
A church in Mafraq which supports 3,000 Syrian families living in Mafraq with their basic needs has had the rent on their facilities increase by 25 percent.
Minister at the Christian and Mission Alliance Church in Mafraq, Nour Sahawneh, said it was because the government subsidy on electricity was lifted, adding that local Jordanians were struggling and it was a bigger crisis than anyone had anticipated.
"We are raising awareness among the donors to give part of their donations to the Jordanians - some Jordanians are being asked to leave their houses because the landlord wants double or triple the rent."
Syrians lack of access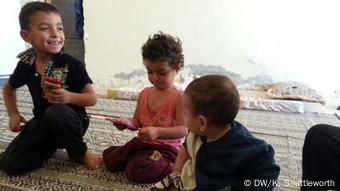 Anam and her children have experienced a terrible ordeal
Twenty-five-year-old Anam crossed the border from Syria into Jordan under terrifying circumstances. Her husband Rahd fled when he saw Syrian government guards near the border, leaving her with her three children.
The guards took all their personal belongings, strip-searched her children leaving them all naked by the side of the road. They left Anam with just her outer dress, but stole her underwear. She was beaten so badly her kidneys no longer work properly and doctors said she needs an urgent operation.
The family lived in Al Zaatari for 10 days before they paid JOD100 to be bailed out of the camp to live in Mafraq.
In the camp there were not enough blankets for her son and he was rushed to hospital with hypothermia, Anam said.
One-month-old Yousef was put in an incubator and Anam said he developed two hernias from rubbing himself and crying violently after being left alone. Anam was in a different hospital outside the camp being treated for water poisoning and the damage she received to her kidneys from being beaten.
The laws in Jordan mean Anam can't get access to further hospital care she needs. Her UN paper work expired after six months and it costs JOD40 per trip to get it renewed, requiring around four trips to the city to secure the paperwork. Anam is faced with the grim reality of deteriorating health and no access to health care.
"The doctor said that all the passage ways coming out of the kidney are blocked. I can't afford to do anything about this."