On Sunday, a majority of Swiss voters who took part in a nationwide referendum rejected a pension reform plan intended to secure retirement benefits for future generations. The proposed changes, known as Pension Reform 2020, would have secured retirement benefits for Switzerland's rapidly aging population, the measures' backers argued.
However, only 47 percent of Swiss voters supported the reform plan, according to initial poll results released by the GfS Bern institute, whereas 53 percent voted against the measure. Final results were due later Sunday evening, as many Swiss had cast mail ballots that still needed to be counted.
Read more: Swiss vote in favor of gradual nuclear phaseout
The proposed changes, which included raising tax on goods and services (VAT) in order to fund retirement benefits and upping the retirement age for women by one year, had been approved by the Swiss parliament in April.
Switzerland's highly direct democratic system includes four referendums per year, when citizens go to the polls to vote on important national initiatives or issues.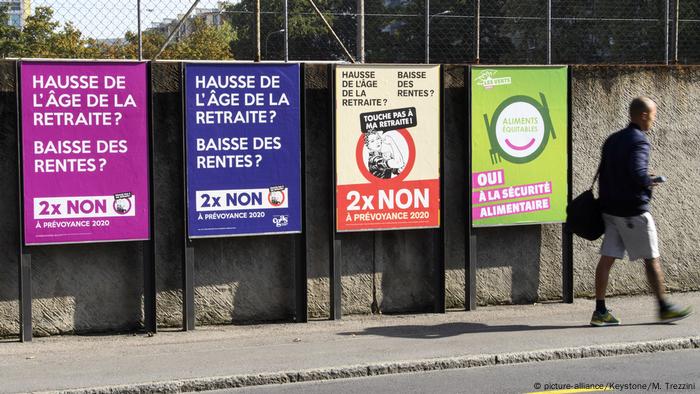 Street posters urged Swiss voters to weigh in on the pension reform measure; food security issues were also on the ballot
Controversial proposals
Switzerland's left-leaning and centrist parties had backed the controversial pension reform plan, while the conservative Swiss People's Party (SVP) and the pro-business Free Democratic Party (FDP) opposed the proposed changes, stating that they were not extensive enough to safeguard the nation's pension system for future retirees.
Read more: Can new EU-wide pension help savers dodge retirement crisis?
The proposed changes included a VAT increase from eight to 8.3 percent. Any increase in VAT requires amending constitutional law, which in turn requires double approval in a referendum — majority support among voters as well as support from more than half of the country's 26 cantons.
GfS' Co-director Lukas Golder told AFP that some voters may have supported the pension reform but not the proposed VAT increase that would have funded the changes.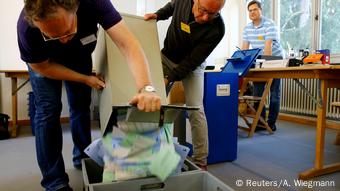 Though initial vote results have been released, election workers will now count all cast and mailed-in ballots
The other proposed reforms cannot be enacted unless the VAT increase is approved. These include a 0.25 percent increase in both employer and employee contributions to the national pension fund and raising the retirement age for women to 65, the current age for men.
The Pension Reform 2020 also would have outlined more flexible retirement options for those ages 62 and 70.
Around 8 million people live in Switzerland, of whom 1.5 million are retirees. As in many European countries, the Swiss government fears the national pension system is on increasingly shaky ground. More and more Swiss baby boomers are nearing retirement age, life expectancy is at an all-time high, and interest rates that yield payoffs are very low.
cmb/kl (epd, AFP, dpa)