An alleged Swiss spy arrested in the western German city of Frankfurt on Friday is being investigated by public prosecutors on suspicion of trying to identify tax investigators involved in the purchase of CDs with information on Swiss bank accounts, according to an online report in "Die Welt" newspaper.
The paper said 54-year-old Daniel M. had worked for the Swiss intelligence agency, NDB, since 2012 and was tasked with finding out who was buying the CDs, which contain data on possible tax evaders, and how the purchases took place. He was active in the German financial and banking sector, according to the report.
A hotel room, apartments and several business premises were searched in connection with the arrest, the report said.
Since 2006, several German federal states, including North Rhine-Westphalia (NRW), Baden-Württemberg, Lower Saxony and Rhineland-Palatinate, have purchased such CDs with information gleaned from banks in Switzerland and Liechtenstein. In North Rhine-Westphalia alone, authorities have paid altogether 17.9 million euros ($19.5 million) to informers for the data since 2010.
Big price, even bigger returns
In return, according to NRW's finance minister, Norbert Walter-Borjans, these purchases have brought in up to 7 billion euros in additional tax revenue, either through retrospective demands by authorities or voluntary disclosures on the part of offenders.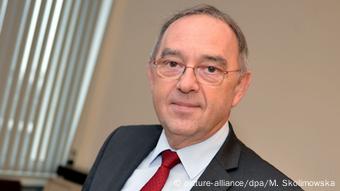 Walter-Borjans: Buying the CDs is legitimate
Walter-Borjans expressed outrage at the alleged espionage, saying that "if the story turns out to be true, it would be a sizable scandal." He told Reuters news agency that courts, including the European Court of Justice, had given German authorities the green light for the purchases as a legitimate method of detecting tax evasion.
Switzerland, for its part, has always described the theft of data from banks and its purchase by German states as illegal.
If Daniel M. is found guilty of working as a spy for a foreign power in Germany, he could face up to five years' imprisonment, or, in very serious cases, up to a 10-year sentence.
Editor's note: Deutsche Welle follows the German press code, which stresses the importance of protecting the privacy of suspected criminals or victims and obliges us to refrain from revealing full names in such cases.