The Office of Attorney General of Switzerland (OAG) said in a statement on Wednesday that it has begun a criminal probe against unnamed suspects who may have committed criminal mismanagement and money laundering in connection with the distribution of the 2018 and 2022 FIFA Soccer World Cups, which are to be held in Russia and Qatar, respectively.
Swiss authorities said they had seized electronic data and documents at the organization's headquarters in Zurich.
At a news conference, FIFA Director of Communications Walter de Gregorio, told FIFA "we're as surprised as you guys" by the announcement of the probe, but insisted that the Football World Cups in Qatar and Russia "will be played" and that there is to be no revote.
Also on Wednesday, nine officials from soccer's governing body were indicted due to a similar US corruption investigation. They were apprehended at a luxury hotel in the Swiss financial capital where they were to attend a conference to decide who should be FIFA's next president - incumbent Sepp Blatter or current Vice President Prince Ali Bin Al Hussein of Jordan.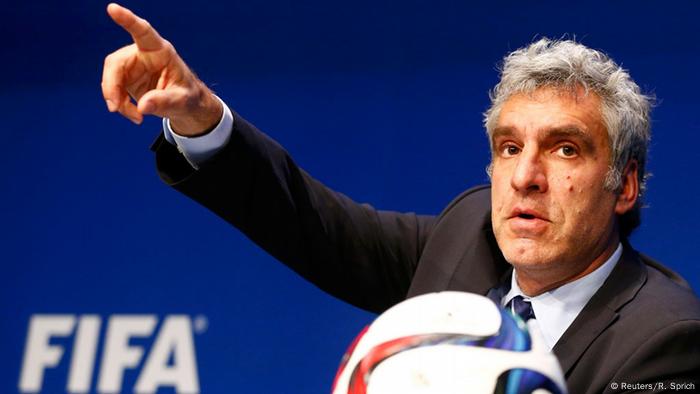 Walter De Gregorio
FIFA emphasized in the news conference that, in this case, FIFA was "the damaged party" and was "cooperating fully" with the US and Swiss authorities. FIFA had "initiated the process on November 18,2014 by lodging a federal complaint" to show its willingness to "clean up" at FIFA.
The OAG statement said that "corresponding unjust enrichment" relating to the 2018 and 2022 games "are suspected to have taken place at least partly in Switzerland," and that they were seeking to question the "10 persons" who voted on the distribution of the events.
The criminal proceedings were originally opened on March 10, and according to Swiss authorities were run with the knowledge of, but separate from the US investigations into the allocation of media, marketing and sponsorship rights for soccer tournaments.
Despite the two corruption investigations coming to light on Wednesday, FIFA announced that its vote for the group's next president will go ahead as planned on Thursday and Friday.
FIFA's de Gregorio insisted that while Blatter "was not dancing in his office" there was no need at this point to consider his departure.
es, ng/jil (AP, dpa, Reuters)