A massive postcard aimed at creating awareness about global warming and climate change was laid out on Switzerland's rapidly shrinking Aletsch Glacier on Friday.
The postcard, measuring 2,500 square meters (26,910 square feet), was created using 125,000 postcards with messages against climate change and sent by young people from all over the world.
The event aims to "boost a global youth climate movement ahead of the next global climate conference (COP24) in Poland," next month, said the WAVE Foundation, which organized the collection in cooperation with Swiss government's Agency for Development and Cooperation (SDC).
'Stop global warming'
Organizers claimed that the postcard, assembled at an altitude of 3,400 meters in the upper reaches of the glacier, was the world's largest.
The collage spelled out messages such as "WE ARE THE FUTURE GIVE US A CHANCE" and "STOP GLOBAL WARMING #1.5 DEGREES C," the latter referring to a UN report released last month. Scientists favored limiting the rise in Earth's temperatures to 1.5 degrees Celsius (2.7 degrees Fahrenheit) from the 2 degrees Celsius agreed at the 2015 Paris climate talks.
"Children and young people have a key role to play if (the 1.5C) goal is to be achieved, both as generations that will suffer from the consequences of climate change for a long time and as a force for concrete action," the SDC said in a statement.
Read more: IPCC 1.5 C degree report points to high stakes of climate inaction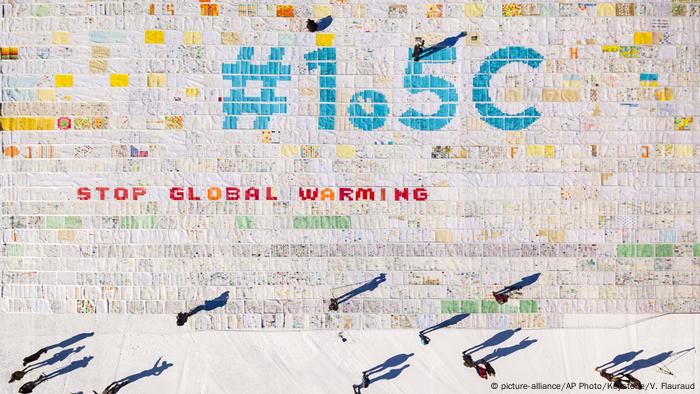 The postcard was created using 125,000 messages against climate change sent by children from around the world.
Vanishing glacier
The Aletsch Glacier, which is the largest glacier in the Alps, is receding at an unprecedented pace, losing up to 12 meters (nearly 40 feet) of ice a year.
Glaciology experts at the University of Zurich warn that the Great Aletsch Glacier, visible from space, could disappear by the end of the century.
The glacier, which is 23 kilometers (14.3 miles) long, has receded about 3 kilometers since 1870. The pace has accelerated in the past few years.
ap/sms (Reuters, AFP)
Each evening at 1830 UTC, DW's editors send out a selection of the day's hard news and quality feature journalism. You can sign up to receive it directly here.