Swedish police confirmed on Saturday they had captured the driver of a truck that ploughed into a crowd of people in a busy Stockholm department store on Friday.
Four people were killed and 15 others wounded in what the Swedish Prime Minister Stefan Lofven described as a terrorist attack.
"Nothing points to that we have the wrong person, on the contrary, suspicions have strengthened as the investigation has progressed," the head of the national police, Dan Eliasson, told reporters.
The 39-year-old man from Uzbekistan was arrested in a northern Stockholm suburb on "suspicion of terrorist crime."
Deputy chief prosecutor Hans Ihrman said he could not confirm whether the man had expressed support for 'Islamic State' (IS) or other jihadist groups on social media.
The suspect's mobile phone and social media accounts are being examined for information. No group has claimed responsibility for the attack.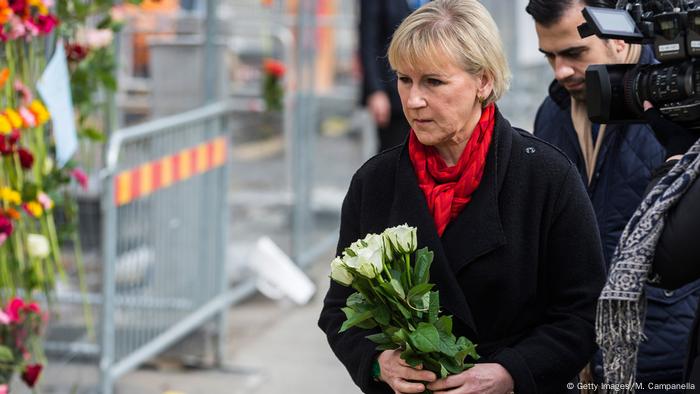 Swedish Foreign Minister Margot Wallstrom visited the sight of the incident on Saturday where she laid flowers in memory of the four victims
'Suspect device' found in truck
Pollice also confirmed on Satuday that they were examining a device found in the driver's seat of the truck.
"We have found something in the truck, in the driver's seat, a technical device that should not be there. I cannot say at this stage that this is a bomb or some sort of flammable material," Eliasson said.
"Whether it is a classic bomb or a fire device or something else is subject to technical analysis," the police chief added.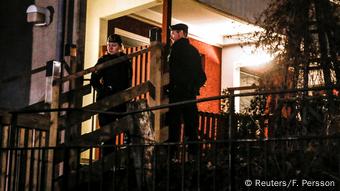 Police arrested another suspect in the suburb of Hjulsta but did not release further details
Central Stockholm and the main rail station remained cordoned off late on Friday. All subway traffic was halted on police orders and government offices were closed.
Bloody tire tracks revealed the path of the truck, which was stolen by a masked hijacker while it was making a beer delivery to a tapas bar, according to Spendrups Brewery spokesman Marten Lyth.
National news agency TT said the delivery driver tried to stop the hijacking and was hurt in the process.
"We were standing by the traffic lights at Drottninggatan and then we heard some screaming and saw a truck coming," a witness who declined to be named told Reuters.
"Then it drove into a pillar at (department store) Ahlens City, where the hood started burning. When it stopped we saw a man lying under the tire. It was terrible to see," said the man, who saw the incident from his car.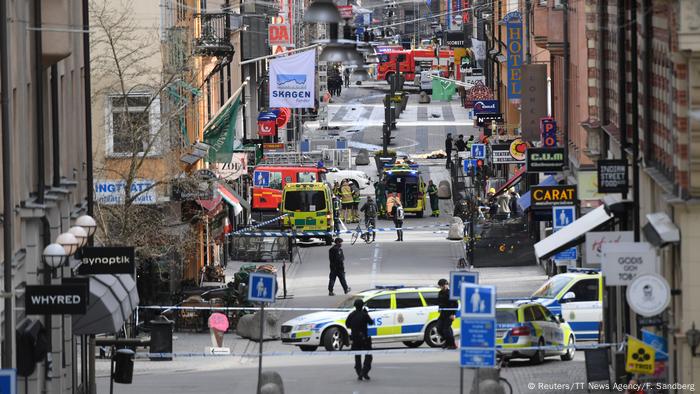 Authorities shut down central Stockholm in the wake of the attack
'You will not defeat us'
"Our message will always be clear: you will not defeat us, you will not govern our lives, you will never, ever win," Prime Minister Lofven told a news conference.
Crown Princess Victoria and Prince Daniel visited the site to lay roses and express support.
"I feel a huge sadness and an emptiness. But I still feel a strength among a society that has shown a tremendous strength," the princess was quoted by "Aftonbladet" as saying.
"The fact that we are united and that Swedish society is based on the tremendous trust, community spirit and cohesion, means we will come out stronger from this."
Tighter border security
Following Friday's lorry attack, security at Swedish borders has been stepped up, with authorities still not ruling out the possibility that other attackers were involved.
Another man was reportedly arrested in Hjulsta, a working-class neighborhood of Stockholm, but police refused to confirm a link with the attack.
Six of those injured in the attack were able to leave hospital, while eight adults and one child remained hospitalized, local authorities in the capital said early Saturday.
ksb/tj (AFP, Reuters, dpa)