Swedish prosecutors charged an Uzbek man with attempted terrorism and causing danger to others on Tuesday.
Prosecutors called for a life sentence for the 39-year-old, who is the only suspect in the Stockholm attack , which left five people dead last April. The trial is set to start next month.
Read more: Fifth person dies following Stockholm truck attack
The charges against Akilov
- Akilov allegedly planned the attack for months and had wanted to "create fear in the population at large" and "run over unbelievers" in a bid to deter Sweden from it role in the fight against "Islamic State."
- Online conversations revealed that he allegedly asked for practical advice on how to build a bomb, as well as for spiritual guidance ahead of a "martyr operation."
- He also is alleged to have talked about Swedish support for NATO in the online discussions and said the country had sent bomb technicians to Iraq to train Kurdish forces fighting IS, the charges said.
Read more: Uzbekistan 'warned West about Stockholm attack suspect'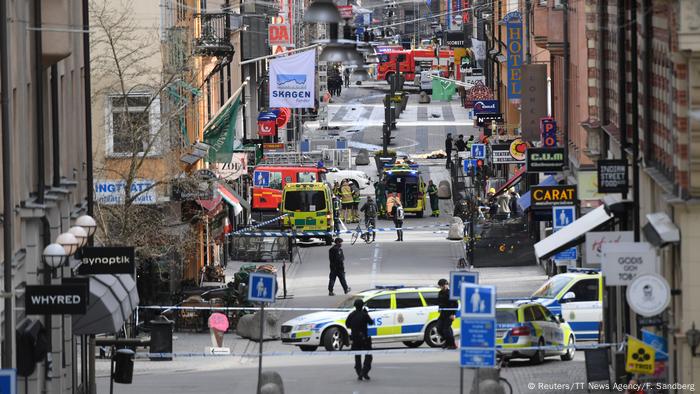 The street scene following the hijacked truck attack in Stockholm that killed five people in April 2017
When did the attack occur: On April 7, 2017 a hijacked a beer truck was driven into pedestrians at a busy shopping area in the Swedish capital, killing five people and injuring 15.
What has Akilov's confessed to: On April 11, three days after his arrest, Akilov confessed to carrying out the attack. According to his lawyer, Johan Erikkson, said Akilov has admitted "to a terrorist crime and accepts therefore that he will be detained." He has been in pretrial detention since his arrest.
What was Uzbekistan's reaction: Uzbekistan said it had warned the West about terror suspect Akilov, saying he was radicalized after moving to Sweden in 2014.
Was Akilov in the country legally: The 39-year-old construction worker faced deportation at the time of the attack and was on the run from authorities over a rejected asylum application.
law/kms (dpa, AP)