Five international and local rights groups including Amnesty International, Human Rights Watch (HRW) and the Human Rights Network Uganda have called on Ugandan authorities to suspend the crime prevention program which trains and recruits civilians to police local communities.
"An unregulated force with no clear mandate is always a problem," Maria Burnett, HRW's country coordinator for Uganda told DW. "The cases we documented involve cases of beatings, of torture, of extortion, of being instrumentalized by various politicians, of being there to threaten or intimidate free expression in the districts and in local areas." All these things, she said, would hinder the conduct of free and fair elections.
Ordinary Ugandans also feel that 'crime preventers' in their areas are politically biased. "People think they are a creation of one of the political players in the country," one Kampala resident told DW. "Everything I have heard is negative and there is no smoke without fire," he added. "Sometimes they are dressed in ruling party colors," another resident said. Other residents maintained that if this means, that Uganda has to train more actual police officers, then so be it.
No clear mandate
Yet authorities remain unclear on who should take responsibility for what they call vigilante groups. "There is no saying that they have a special attachment to the police. They have more of an attachment to the community, that's why we chased some of them from the police, we said no, you have no duty here," police spokesperson Fred Enanga told DW. Once they are trained, he said, the communities where they come from should monitor them. He added that the crime preventers could take matters into their own hands and punish their colleagues who 'misbehave'.
According several rights groups, there is little information about the exact mandate and structure of the crime preventers. The government has made promises to address the issue in parliament, but there would be no time to do so before the elections.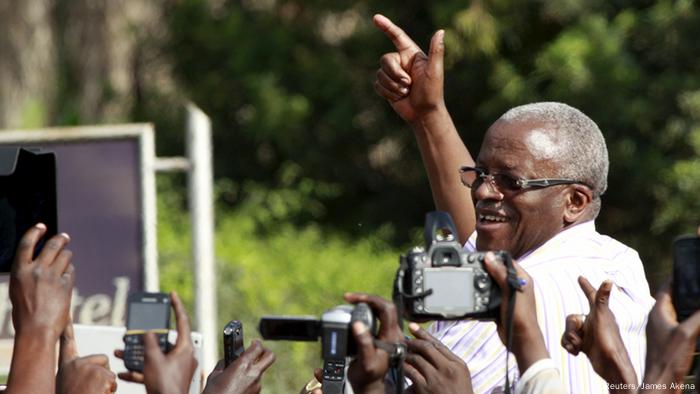 Campaigning is in full swing ahead of the elections on February 18. This image shows opposition candidate Amama Mbabazi.
Links to ruling party
James Luyombya a researcher at the Centre for Basic Research in Uganda believes that the group is being used by politicians, particularly the ruling National Resistance Movement (NRM). "They are being screened by NRM structures of security," Luyombya said. "Therefore we see them being accountable to the system and not the community."
After conducting several interviews in Uganda, Amnesty International also reported that there is evidence of clear ties between the crime preventers and the ruling party. One crime preventer told HRW: "The commander told me that I should fight hard and fight the other parties. He said that we're living in the ruling NRM era so other parties don't need to surface."
Police Chief Kale Kaihura remains adamant that the system is working because the government can never have enough police officers everywhere. "The crime preventers all over the country are doing a great job," he insisted. "Even the most advanced countries with resources cannot have enough police to really patrol or watch the security of households or villages."