The London-based Syria Observatory for Human Rights said on Wednesday that the death toll from the incident had risen to more than 70, which would make the suspected chemical attack Syria's deadliest since 2013.
Russia: rebel weapons on ground responsible
Russia's defense ministry said in a statement on Wednesday that it believed a rebel "terrorist warehouse" was hit by a conventional airstrike from Syria's military - causing the release of the "toxic substances."
Read: Syria's chemical weapons, explained
The statement said that an airstrike hit a bomb-making warehouse, without saying if the choice of target was deliberate. It said that the weapons were being made for use in neighboring Iraq.
"Yesterday, from 11:30 a.m. to 12:30 p.m. local time, Syrian aviation made a strike on a large terrorist ammunition depot and a concentration of military hardware in the eastern outskirts of Khan Sheikhoun town," Russian defense ministry spokesman Igor Konoshenkov said in a statement posted on YouTube.
"On the territory of the depot there were workshops which produced chemical warfare munitions."
He said the same chemical weapons had been used by rebels in Aleppo last year. "The poisoning symptoms of the victims in Khan Sheikhoun shown on videos in social networks are the same as they were in autumn of the previous year in Aleppo," Konoshenkov said.
Outrage before Brussels conference
The reconstruction and future of war-torn Syria was already slated to be the focus of an international conference hosted by the European Union in Brussels on Wednesday morning. International donors are petitioning for billions of dollars in aid for the country before leaders attend an emergency United Nations Security Council meeting called in response to the chemical attack.
The attack occurred in the rebel-held town of Khan Sheikhoun, about 260 kilometers north of the capital, Damascus
Ahead of the conference, British Foreign Secretary Boris Johnson said that "all the evidence" he had seen in relation to the incident "suggests this was the Assad regime who did it in the full knowledge that they were using illegal weapons in a barbaric attack on their own people."
Johnson added he did "not see how a government like that can continue to have any kind of legitimate administration over the people of Syria."
German Foreign Minister Sigmar Gabriel was more cautious in pointing fingers, but said that if the Syrian regime had indeed carried out a chemical attack, "it would be an act of such cruelty as to be without equivalent," and "another reason we should not deal with the Assad regime in the fight against terrorism."
Britain, joined by France and the United States, presented a draft resolution to the Security Council demanding a full investigation into the attack. The resolution was circulated to all 15 council members and could be voted on as early as Wednesday.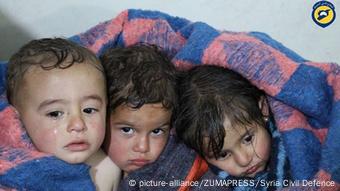 A large number of the victims are known to be children
UN Syria envoy Staffan de Mistura said the "horrific" attack was believed to be chemical and launched from the air, and that there should be a "clear identification of responsibilities and accountability."
Speaking on the eve of the EU-sponsored conference, he said, "Every time we have a moment in which the international community is capable of being together - 70 countries tomorrow - there is someone, somehow, that tries to undermine that feeling of hope by producing a feeling of horror and outrage."
But "we are not going to give up," de Mistura added.
International condemnation and new doubts for peace in Syria
The White House has accused Assad of carrying out a "reprehensible" act "that cannot be ignored by the civilized world." US Secretary of State Rex Tillerson said the Syrian leader must be held accountable, demanding Russia and Iran bear down on their ally.
"It is clear that this is how Bashar al-Assad operates: with brutal, unabashed barbarism," Tillerson said. "Those who defend and support him, including Russia and Iran, should have no illusions about Assad or his intentions."
Following comments from EU foreign ministers saying they saw no place for al-Assad in Syria's future, the attack has cast new doubt on the UN-led peace process.
"If the United Nations cannot deter the regime from carrying out such crimes, how can it achieve a process that leads to political transition in Syria?" said Mohamad Sabra, the Syrian opposition's chief negotiator at peace talks.
The head of the opposition High Negotiations Committee, Riad Hijab, said on Twitter that the "massacre is evidence that it is impossible to negotiate with a regime addicted to criminal behavior."
mcm/msh (AP, AFP, Reuters, dpa)