Dr Yoav Hoffman, senior physician at the pediatric intensive care unit of Western Galilee Hospital in Nahariya, said he was "moved to tears" when he first made the connection after he initially thought it was a coincidence that Syrian patients were arriving at the hospital with the same type of spinal wounds.
Dr Hoffman had drawn the conclusion snipers had made deliberate attacks on the spine once the sixth young patient with the exact same spinal wound was brought to the hospital by Israeli Defense Force personnel.
"I'm sure the snipers hit the spine on purpose," he told DW. "If you want to kill a man, or a child you put a bullet in his head or heart. They purposely put a bullet in the lumbar [lower] spine so the child would suffer. I don't have any other explanation. It wasn't just a few bullets randomly, it was a sniper who knew exactly what he was doing, it's cruel. I almost cried when I was seeing it because it was very clear."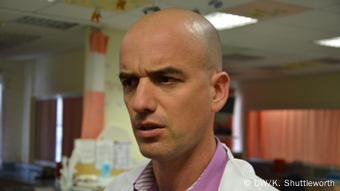 Dr Hoffman is shocked at some of the wounds
At least five of the young Syrians treated by Dr Hoffman were left partially of fully paralysed from the spinal shots and returned to Syria in a wheelchair.
Israel's Western Galilee Hospital is located 10 kilometers from the border with Lebanon and has treated 230 Syrian patients since March last year, many of them sent to the facility's new neurosurgery department. Dr Hoffman said wounded Syrians were arriving at the hospital brought from field hospitals by Israel Defense Force personnel from the Golan Heights area, near the border of Syria.
One of Dr. Hoffman's young Syrian patients is 16-year-old Yalda. She was shot in the lower back.
Her family were living in the city but had moved as fighting erupted. They escaped to a family member's home in rural Syria, but eventually the fighting caught up with them. During the day after heavy shelling had stopped the girl opened the front door. Her family yelled at her to move away. Yalda turned her back and went to come back inside the house and shut the door.
"When she turned around and went to come back inside a gunman had waited to shoot her in the back, if you want to kill a person you don't wait until they have turned around," said Sara Paperin of the International Affairs department of the hospital.
Yalda's mother told the hospital her daughter was 14-years-old because she was nervous she would be refused treatment. Three months later Yalda returned to Syria in a wheelchair that was donated by a non-profit organisation affiliated with the hospital.
Deliberate targeting?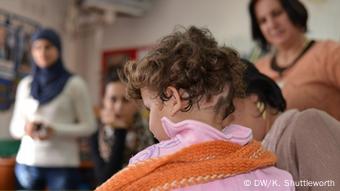 Gunshot wounds to the head and spine are common, doctors say
This is not the first time that claims about deliberate targeting of children in Syria have been made. Dr David Nott, a British surgeon who took unpaid leave to work in Aleppo, Syria, said he treated pregnant women and children shot by gunmen in specific places like "the leg, arm, and abdomen."
Dr Nott told DW he saw fewer direct shots to the spine, but said each day snipers targeted different parts of civilians bodies in a sort of "target-practice style" when civilian Syrians were trying to go about their chores and activities during the day.
"We would see patients come in waves with the same injuries - one day we would see six patients all shot in the same place in the abdomen, or the next day they would all be shot in the arm or the chest. One day six pregnant women were shot and the next day two pregnant women were targeted with shots through the uterus - a deliberate attack. They survived but their unborn babies died."

Dr Nott freelanced for Doctors Without Borders and the International Committee of the Red Cross during his time in Syria and said it was possible the spines were being targeted by snipers.
Major head injuries
When DW visited the hospital, 17 Syrian patients were unconscious with head injuries - only two were conscious.
Dr Hoffman led DW into the hospital's intensive care ward, where Sayid, a Syrian father in his mid-30s, tried to comfort his 3-year-old daughter Mais.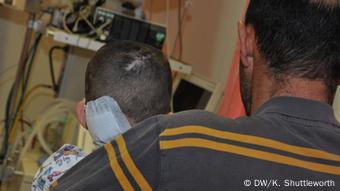 Mais brother was killed before her eyes
He agreed to tell his story for the first time. He was at home with his wife and twins when a missile tipped with cluster munition exploded through the roof. Sayid injured his hand and tried to get his family to run to an underground shelter in their property but as they did the cluster munition exploded. The daughter sustained major head and brain injuries and her twin brother was killed in the explosion before her eyes.
Sobbing, Sayid recalled the moment his son was killed and although his wife survived the explosion and helped get Sayid and Mais to Israel, he doesn't know where she is now.
Left in the field
Jean Soustiel, director of the neurosurgical department of the hospital, said in terms of injuries "we are back to the beginning of the 20th century. The wounded stay in the field for hours, sometimes for days and are coming in late."
The survival rate is high despite the life-threatening injuries - so far the hospital has only lost 25 Syrian patients. The first Syrian patients arrived in Israel one year ago, when six injured people made their way to the Israel-Syrian border. There are currently 1,000 patients here and the costs have been divided between the health and defense ministries and each hospital involved.
"At first they were frightened to be in Israel," Dr Hoffman said. "They thought that we would harm them, even torture them. Then, in a few days they understood what we were doing and they often cry when they leave us and have to return to Syria."
Dr Hoffman said that one Syrian girl left the hospital with one request before returning to Syria. "She told us she just wanted to see the sea before she left because she'd never seen it - when she did, she didn't want to leave us."